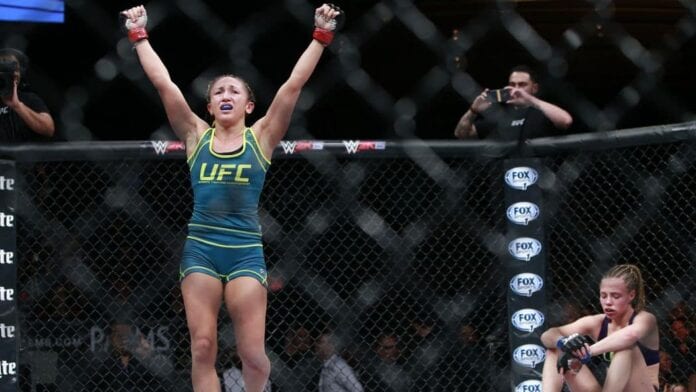 Carla Esparza is currently the No. 6-ranked strawweight in the UFC.
The former 115-pound champion is seeking to reclaim the title she helped introduce to the promotion. She could take a huge step towards doing that tomorrow night (Sat. September 8, 2018) in Dallas, Texas.
Esparza will share the Octagon with Tatiana Suarez at UFC 228. Suarez is a highly-touted prospect and former Ultimate Fighter winner. "The Cookie Monster" won't allow, who she calls the "female Khabib [Nurmagomedov]," to take her spot (quotes via MMA Junkie):
"As for her being an up-and-comer, I mean she's been dominating everyone," Esparza said. "I know she's hungry. She's young, she's looking to drive up to the top. She's been moving pretty fast, so it's my job to stop that.

"I don't care if you're old, you're young, you're black, you're white, you're freaking an alien – if you're trying to take my spot, I can't let that happen.

"I definitely think I gain something out of this win," Esparza said. "Maybe people might not know everything about her, but there's been talks.

"It's like, 'Oh, who is this new up-and-comer, what's going on with her? She's the female Khabib (Nurmagomedov). She's this, she's that.' I think people might not know so much, but they know that there's hype behind her, for sure."
Esparza has won two of her last three fights, although the loss was a controversial split decision defeat to Claudia Gadelha. As for Suarez, she's undefeated in her young mixed martial arts (MMA) career.
Suarez has won all six of her professional MMA fights, finishing four of them by either knockout or submission. Both Esparza and Suarez are very skilled wrestlers. It will be interesting to see what happens if the fight finds its way to the ground.