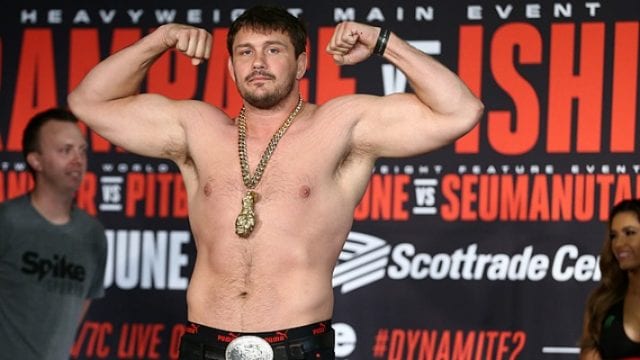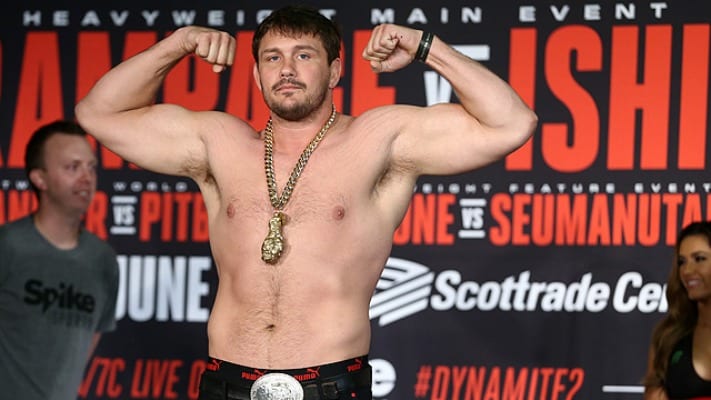 Bellator 225 is quickly approaching and the ceremonial weigh-ins streaming from Bridgeport, Connecticut is live now.
The time is nearly here. Matt Mitrione and Sergei Kharitonov are set to throw down in a great fight in the main event of tomorrow's (Sat., August 24, 2019) Bellator 225 event.
Rounding out the five bout main card is Alejandra Lara (7-3) vs. Taylor Turner (2-5) in a women's bantamweight bout, Tyrell Fortune (6-0) vs. Rudy Schaffroth (6-0) in a heavyweight bout, and David Rickels (21-5, 2 NC) vs. Yaroslav Amosov (21-0) in a catchweight bout.
The preliminary card will air online at 7:00 pm EST while the main card will air on Paramount Network and DAZN at 9:00 PM EST.
Bellator 225 Ceremonial
The fighters made weight at today's Bellator 225 early weigh-ins so now all that's left is for the athletes to face off at the ceremonial weigh-ins. Join us for the video streaming live at noon ET today:
Bellator 225 Weigh-In Results
MAIN CARD (Paramount, DAZN, 9 p.m. ET)
Matt Mitrione (258) vs. Sergei Kharitonov (264)
Javy Ayala (265) vs. Vitaly Minakov (262)
Alejandra Lara (134) vs. Taylor Turner (136)
Yaroslav Amosov (175) vs. David Rickels (175) – 175-pound catchweight
Tyrell Fortune (247) vs. Rudy Schaffroth (242)
PRELIMINARY CARD (Online, 5:45 p.m. ET)
Khonry Gracie (171) vs. Oscar Vera (170)
Aviv Gozali (165) vs. Eduard Muravitskiy (165) – 165-pound catchweight
Sabah Homasi (171) vs. Micah Terrill (171)
Austin Vanderford (185.5) vs. Joseph Creer (184)
Azunna Anyanwu (265) vs. Timothy Johnson (265)
Ricky Bandejas (136) vs. Ahmet Kayretli (136)
Chris Disonell (140) vs. Mike Kimbel (140) – 140-pound catchweight
Corey Browning (156) vs. Nick Newell (156)
Connor Dixon (165) vs. Kastriot Xhema (165) – 165-pound catchweight
Jon Manley (175) vs. Thiago Rela (175) – 175-pound catchweight
If you enjoyed this story, please share it on social media!