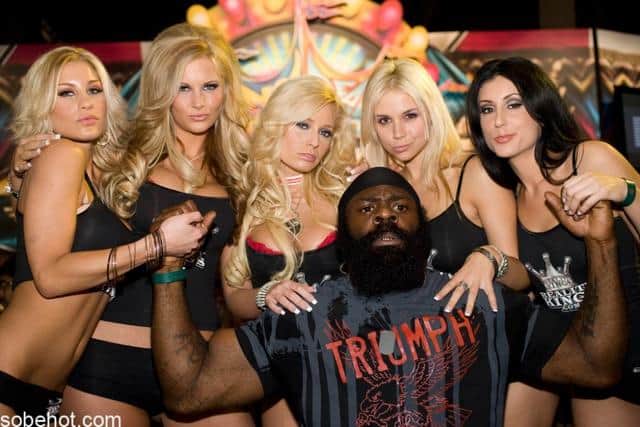 Quite the fetching headline, right? Just the kind of outlandish jargon you'd expect when Kevin 'Kimbo Slice' Ferguson and a 51-year old Ken Shamrock are poised to headline the next 'big' Bellator MMA event. BMMA 138 goes down in St Louis, Missouri on Friday June 19th, and features Kimbo vs. Shamrock as the main event on Spike TV.
A recent photo posted by 'The World's Most Dangerous Man' had the internet stirring with accusations of steroid use, but according to a Tweet by MMAFighting.com, Bellator CEO Scott Coker confirmed that both the ex-youtube brawler and former UFC champion passed their pre-fight drug tests:
Scott Coker says that both Shamrock and Slice underwent pre-fight drug testing and both passed.

— MMAFighting.com (@MMAFighting) June 10, 2015
This is not to say that Shamrock wasn't riding the crest of an anabolic fuelled wave during camp, as he may just be very good at timing, although that is purely speculation at this stage. What we know is that Ken went from a bedraggled ex-UFC star who was working the security circuit, to a bronzed Adonis with abs like a wash board. Nothing to see here says Sham':
"Hard work, and genetics. I think if you've watched me throughout my career, when I try to go and pack on weight, I'm not as lean. When I don't worry about packing the weight on, and I just worry about my cardio and speed, then I get leaner. That's just how I've been throughout my career. What you're seeing now is I'm putting in harder work."
Talking of work outside of MMA, Shamrock's opponent at the event dubbed 'Unfinished Business' is still conducting some security work of his own, only he does it for a porn website called 'reality kings', providing on-site security for the stars of the site's x-rated shoots (giggity).
"I'm not hands on," Slice told MMAjunkie. "When they need security at certain spots, I'll have guys go to certain locations to make sure everything runs smooth."
"I do a lot of networking, as well,"
So there you have it; Ken Shamrock, at nearly the right age for a pension, and incredibly ripped for his usual crusty demeanour, will face an ex-street fighter-turned pro (lol) boxer who still works for a pornography website. Bellator, you stay classy.