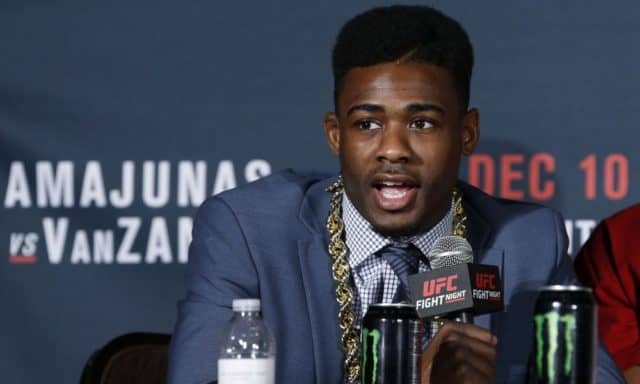 Well, the free agency saga regarding No. 5-ranked bantamweight Aljamain "The Funk Master" Sterling has now come to an end.
Appearing on today's (February 15, 2016) edition of the MMA Hour with Ariel Helwani, Sterling announced that he had indeed resigned with the UFC, the world's largest MMA promotion, after tons of speculation that he would be heading to Bellator or even World Series of Fighting (WSOF).
At 26 years old, Sterling is undoubtedly one of the bantamweight division's brightest prospects, but apparently he had felt as if he wasn't offered a fair deal ahead of his most recent fight, a submission victory over Johnny Eduardo last December in Las Vegas.
That being said, he fought out his contract and tested the waters.
After nearly two months of dealing with free agency, Sterling appears to have received what he wanted from the UFC, and the Serra-Longo product will now be spending the foreseeable future inside of the Octagon.
"I'm 100 percent happy with my decision," Sterling said. "I think I got a better deal for myself than I would have had."
"The Funk Master" is currently undefeated at 12-0 in his professional career, and has won all four of his Octagon bouts including three by way of finish.
Possibly one fight away from a shot at gold in the contender scarce bantamweight division, Sterling's next fight will be pivotal to his title hopes.
Who would you like to see "The Funk Master" meet next?
If you enjoyed this story, please share it on social media!