Daniel Cormier has been vicious on the mic as of late.
The reigning light heavyweight champion is scheduled to finally defend his crown against Jon Jones, as the pair are booked to collide at UFC 214 live on pay-per-view (PPV) this summer in Anaheim, California.
A press conference was held last week to promote the bout, in addition to a slew of other fights on docket for the summer, but Jones and "DC" stole the show with their entertaining back-and-forth. Jones continued to mock Cormier's legitimacy as 205-pound champ, seeing as Cormier never defeated Jones to earn the belt, and Cormier poked fun at "Bones'" history of drug abuse.
Cormier took a slight bit of backlash for using such a touchy subject against Jones at the presser, however, the light heavyweight champ showed no remorse in a recent interview with Brett Okamoto on the 5ive Rounds podcast (quotes via MMA Fighting):
"Why?" Cormier said. "Even after UFC 200 I didn't go and just start ripping Jon after that fight happened and I had to fight Anderson [Silva] under those circumstances. I took the high road, as I've done on a number of occasions. But why? Why should I still continue to do this because I feel as though the things that he's done have not only affected him but it does really affect me, not only financially but it's affected negatively on my career at this point."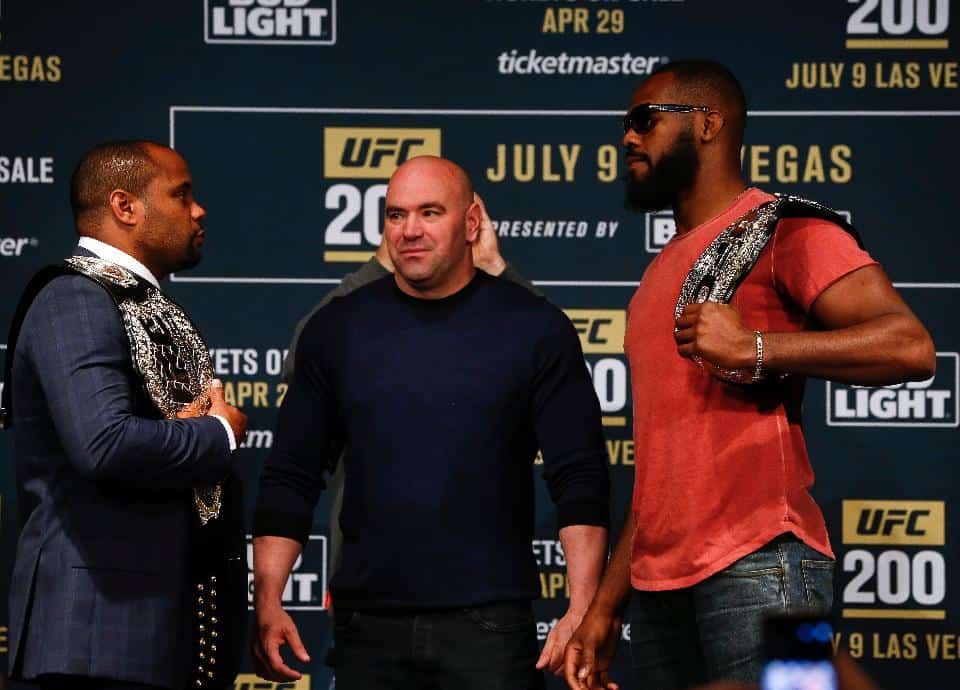 Jones and Cormier were once set to unify their light heavyweight titles (Jones winning the interim 205-pound strap from Ovince Saint Preux at UFC 197 in April of last year) in the main event of UFC 200 last year, however, Jones was flagged by the United States Anti-Doping Agency (USADA), leaving Cormier high and dry without an opponent.
Cormier was instead paired up with former UFC middleweight champ Anderson Silva, and won the contest via unanimous decision, but he was bumped down out of the main event and most likely lost a significant amount of PPV points. Because of all Jones has cost him, Cormier feels he's well within his rights to fire off these personal shots at Jones:
"It's not like this is anything that's untrue. Everything I say is really true. I'm not saying anything that I'm just making up. All this stuff is true. So if the truth hurts, then don't let that be your truth anymore. But it's just the truth so if I want to tell the truth, everybody doesn't have to like my truth, because I know it."
""DC" also echoed sentiments he made earlier this week, stating that if Jones was willing to resort to cocaine use right before a fight, who's to say he wouldn't abuse performance enhancing drugs (PEDs) to give him the upper hand inside the Octagon?
Cormier stated that he also noticed some interesting things during Jones' fight with Ovince Saint Preux:
"I said yesterday that a person that would do something negative to themselves right before a fight would be willing to do something that would help him going into a fight. That's just my thought, that's my opinion. Also, I just don't feel like the things that, from our first fight, the month before, I don't know if it's hormones or testosterone levels were all jacked and turned around. We're up in the Bay Area and Javier [Mendes, head coach at American Kickboxing Academy] knows that Victor Conte guy and that guy was talking to Jav and Jav was repeating all this stuff to me about levels and how it points to some pretty shifty stuff but I just let it go. I lost the fight. Whatever, you won.

"But to go out there and put on all this muscle before you fight Ovince [Saint Preux], physically he looked better than I'd ever seen him look – physically, to the blind eye -and then fight a little lethargic, a little slow, he seemed a little less sure of himself than he did before. Then to come back the next fight and have all the things that would be found if someone was trying to mask something, with all the history, I say yeah. I feel like the Ovince Saint Preux fight he said, 'you know, USADA's around, I should probably do this clean.' So he did it with the weight lifting and when he didn't feel as himself in that fight, I feel he said, 'I don't want to lose to Daniel so I'm just gonna chance it,' and he tried to chance it and he got caught. That's my thought."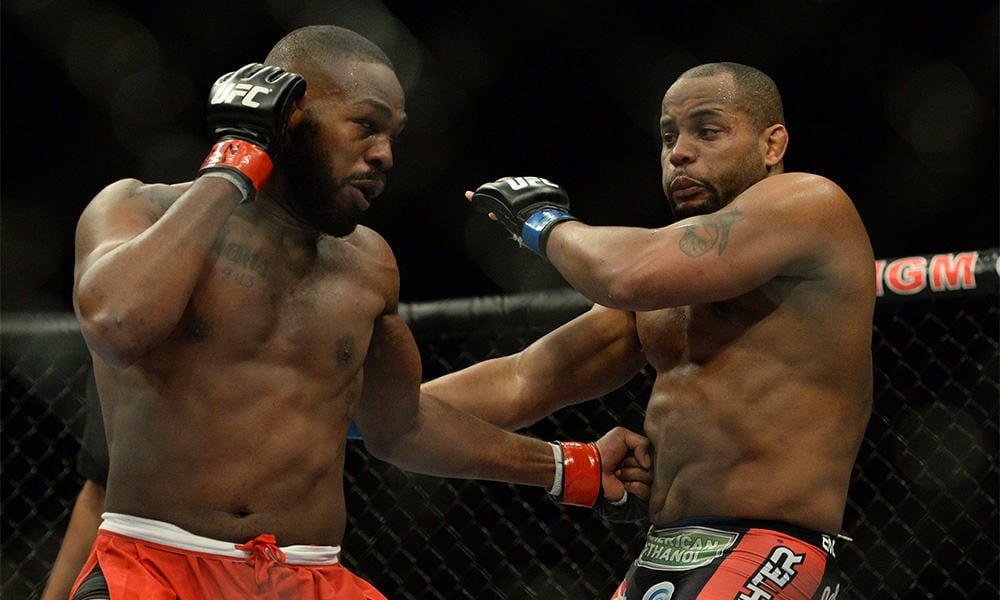 Although his words already may have been harsh enough, Cormier hasn't pulled out everything from his bag of tricks leading up to his fight with Jones, and is anticipating his opportunity at vengeance when he gets his hands on the first and only man to defeat him in mixed martial arts (MMA) competition on July 29th:
"I've saved a little bit. You can't just throw it all out there, you've got to let some stuff linger for a little bit."