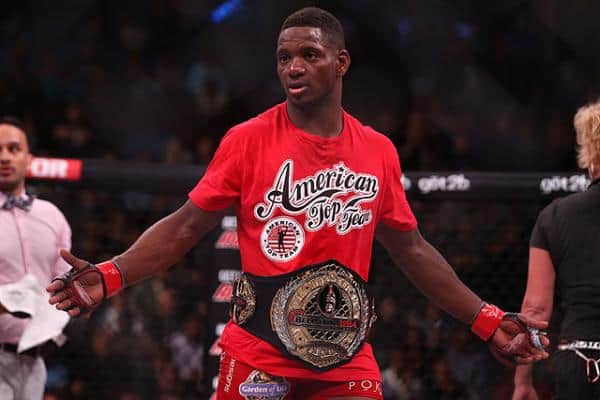 After two years as the Bellator lightweight champion, Will Brooks finally made his debut against longtime veteran Ross Pearson on the main card of tonight's (July 8, 2016) The Ultimate Fighter (TUF) 23 Finale from the MGM Grand Garden Arena in Las Vegas, Nevada.
In the end, he made a successful debut, but it wasn't the statement he may have been looking to make as he was met with a large amount of adversity from a battle-tested TUF veteran in the British Pearson.
"The Real Deal" came out with his movement high, but "Ill" Will responded with a well-timed knee down the middle. Brooks pushed the pace patiently, using combos to transition into takedown attempts along the fence. Elbows landed and Brooks controlled position for a moment. Brooks threw a nice body kick and continued working for a takedown. Pearson landed a knee on Brooks' entry, but his offense was mainly stifled as Brooks did more clinch work with some knees to close out the first round.
Pearson came out aggressive in the second round, throwing some decent punches and a kick that Brooks countered with a stiff uppercut. A knee to the body followed, and a combination of shots followed that. Pearson countered and Brooks answered, and it became a brief chess match of varied technical strikes until Brooks scored a vital trip takedown off of a lightning-fast shot. Brooks worked from top control to take Pearson's back, but he got to his feet and went to the fence. "The Real Deal" recovered to engage in another clinch battle with Brooks, who landed a huge body shot and a combination of punches in the final seconds of the round. Somehow, Pearson actually ended the second on top.
The third and final round started with fireworks, with Pearson landing a big left hook and an uppercut. Brooks landed a combo but it looked like Pearson did more damage with his counter. Knees continued to score for Brooks until a low blow in the clinch made a quick stop to the action. Pearson landed a punch and a knee, following with a hard body shot. Pearson ate a lead elbow from Brooks but countered with hooks and knees, landing heavy shots to damage the American Top Team (ATT) member.
Pearson  worked the body and legs in close as Brooks attempted to defend himself, finally breaking loose. He ate a body kick but got a big slam takedown, taking Pearson's back. Brooks clinched again and landed a big elbow but was spun around into a knee from Pearson, and Brooks ended the fight with an uppercut and some hard elbows to end the close, exciting fight.

Final Result: Will Brooks def. Ross Pearson via Unanimous Decision (29-28, 29-28, 29-28)