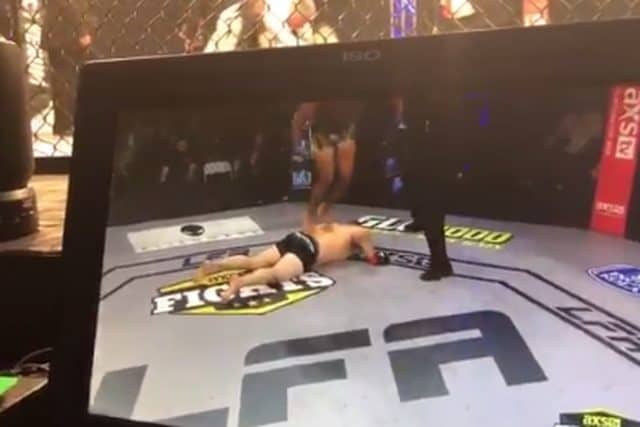 Here's one we haven't seen before.
At last night's Legacy Fighting Alliance 36, amateur heavyweight Irvins Ayala knocked himself out throwing a hammerfist on grounded opponent Drew Chatman.
However, that's not even the strangest part of this story.
After the rarely-seen and not really earned victory Chatman thought it was a good idea to front flip off of his KO'd opponent, landing partly on his butt:
And then this happened… WTF?!? @LFAfighting #MMA pic.twitter.com/ml8OueDkRQ

— David Clark Ⓥ (@wearesuperman) March 24, 2018
Chatman was deservedly disqualified for his antics, and LFA released the following on the strange situation:
Irvins Ayala KO'd himself throwing a hammerfist on the ground, when his chin slammed into Chatman's knee, who was on his back in guard.

Chatman is then DQ'd at 2:39 of Round 1 for jumping on the back of an unconscious Ayala.

Weird Fight.#LFA36@AXSTVFights @MorongoCasino

— LFA (@LFAfighting) March 24, 2018
Maybe Chatman will learn to not disrespect his opponent after the incident, especially if he didn't really earn the win on the merit of his own skill.
If you enjoyed this story, please share it on social media!