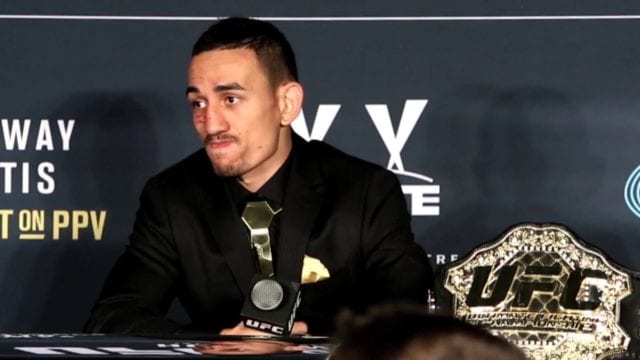 In what has amounted to be the craziest week in recent UFC history, featherweight champion Max Holloway apologized to Khabib Nurmagomedov for not being able to fight him at UFC 223 on Saturday night.
Holloway had initially stepped up to fight Nurmagomedov after Tony Ferguson was forced to pull out of the lightweight title fight on Monday.
Holloway's nutritionist had actually gone on record to say his weight cut was one of the biggest he's ever overseen in his entire career, which just goes to show how much weight these guys cut (Max fights at 145 pounds and was unable to cut to 155 pounds on a weeks notice).
Ever the gentleman, Holloway expressed his apologies to Nurmagomedov on Friday morning, shortly after it was announced he was medically unfit to fight:
. @TeamKhabib my brother I want to keep going but they are stopping me. Sorry to your team and the fans. You don't deserve this. This is number one. Shout outs to you and @Showtimepettis . Give the fans what they deserve

— Max Holloway (@BlessedMMA) April 6, 2018
With Holloway now out of the picture, the UFC is scrambling to prevent a fourth fight from being scrapped from the card, as Michael Chiesa and Ray Borg were forced out of their respective fights due to injuries sustained during Conor McGregor's bus attack on Thursday. Artem Lobov was also taken off of the card for participating in Thursday's melee.
Former divisional champion Anthony 'Showtime' Pettis, who was supposed to fight Chiesa on Saturday, is the prime candidate to replace Holloway at this point, however nothing has been set in stone yet. Al Iaquinta and Paul Felder have also been mentioned as possible replacements to take on Nurmagomedov.
Be sure to stay tuned as the UFC looks for Khabib's opponent!
If you enjoyed this story, please share it on social media!