Muay Thai, the art of eight limbs, uses the knees as an essential weapon to achieve success. This ancient art form has become a key component in mixed martial arts (MMA), and we have seen fighters time and time again use knees to inflict devastating damage on opponents.
While knees are usually used within the clinch, it takes a special athlete or a special fighter to transform the attack into a flashy, yet deathly move: the flying knee.
Although flying knees aren't often thrown, and even more rarely landed, we have seen on multiple occasions fighters execute the move, and when executed perfectly, the victim often finds himself staring up at the lights.
Some of the greatest knockouts of all-time have come by way of flying knee, and with that in mind, let's take a look at the five best in UFC history: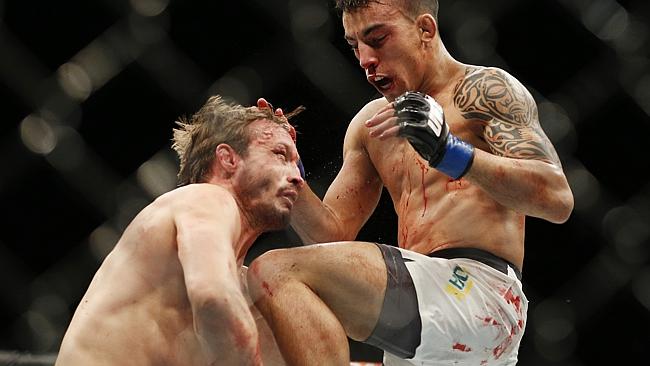 5. Thomas Almeida vs. Brad Pickett – UFC 189
As one of the most notable prospects in not only the bantamweight division, but in the UFC period, undefeated 24 year old Brazilian Thomas Almeida had a tough test in front of him at July 11's UFC 189.
Looking to establish himself as a true contender, Almeida was set to square off with powerful veteran Brad "One Punch" Pickett on the main card.
After getting dropped multiple times and bloodied in the opening frame, it seemed as if it was going to be a long, long night for the young knockout artist.
Well, it turned out to be the exact opposite.
Almeida recovered quickly, and came out firing in the second round. Less than a minute in, the Brazilian would land an absolutely brutal flying knee right on the chin of "One Punch".
Pickett was out cold on impact, and Almeida would earn a "Performance of the Night" bonus for one of the best flying knee knockouts we've ever seen.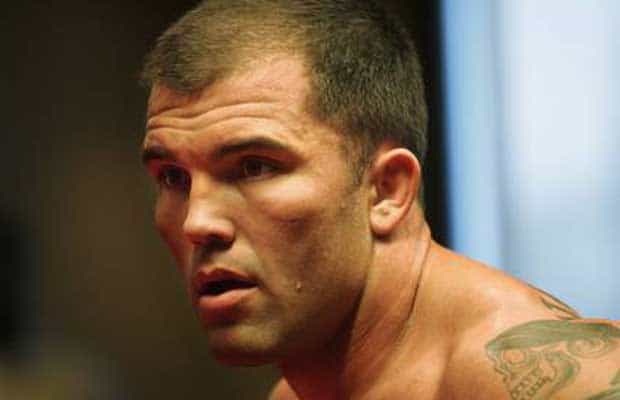 4. James Irvin vs. Terry Martin – UFC 54
Making his light heavyweight debut, veteran former WEC heavyweight champion James Irvin, who now competes as a middleweight in Bellator, took on Terry Martin at UFC 54 in August 2005.
Martin, a collegiate wrestler, actually got the better of Irvin for the majority of round one, but oh how quickly things can change in this crazy sport.
As the bell sounded for round 2, Irvin marched out to the center of the cage before performing a picture perfect flying knee not letting his opponent even throw a punch. Just nine seconds into the round, Martin was lying unconscious on the canvas.
Long-time UFC color commentator Joe Rogan would call this the best flying knee knockout he'd ever seen, and while it's undoubtedly near the top of the list, we as fans have been lucky enough to see a few more over the years….
3. Pablo Garza vs. Fredson Paixao – TUF 12 Finale
Making his UFC (aside from TUF) and featherweight debut, Pablo "The Scarecrow" Garza took on Fredson Paixao at The Ultimate Fighter (TUF) 12 Finale in December 2010.
Wasting little time, Garza landed a scintillating flying knee just 51 seconds into the first round that would end the night off for Paixao. Just the sound of the impact is enough to send chills through the spine of those watching.
After the blow, Paixao would remain unconscious for nearly two minutes before remaining on the ground for a few minutes longer. Unfortunately he would be taken out of the arena on a stretcher.
Scary, scary stuff, but without question one of the best flying knees in promotional history.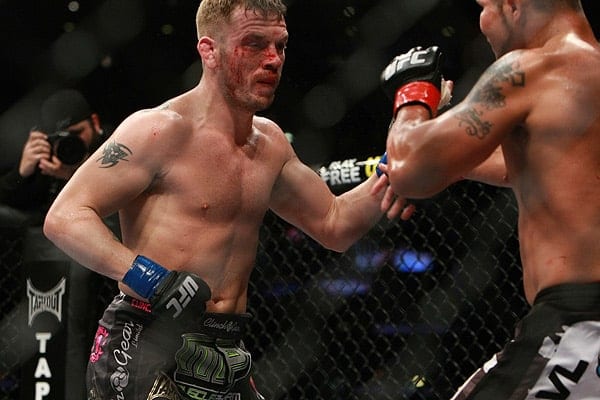 2. Spencer Fisher vs. Matt Wiman – UFC 60
Now semi-retired, Spencer Fisher took on Matt Wiman back at UFC 60 in May 2006.
After the first round, Fisher came out in the second throwing combinations, and eventually tagged Wiman with a punch to which Wiman shrugged off as if he had felt nothing.
With Wiman calling on for more, Fischer unleashed a lethal flying knee that landed right on the bloodied face of his opponent. Wiman's legs gave out immediately as he crumbled to the canvas.
When discussing flying knees it's near impossible not to mention the handy work of Fisher and many may have put his knockout atop this list.
However, there's one more in particular you may have forgotten about…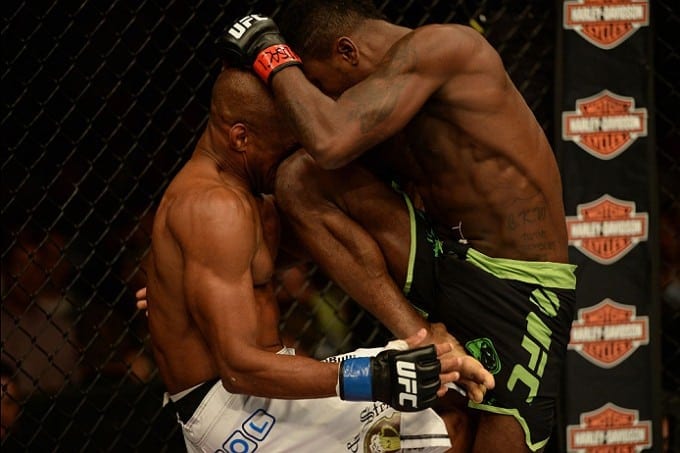 1. Chris Beal vs. Patrick Williams – UFC 172
Bantamweight Chris Beal took on Patrick Williams back at UFC 172 in 2014, and his performance in this bout will undoubtedly be remembered forever.
In the second round of the fight with Williams backed up near the fence, Beal would back up in order to create space before leaping through the air with brutal intentions.
A flying knee in the truest sense, Beal would land right on the chin of his opponent, sending a motionless Williams crashing to the mat.
Earning a well-deserved "Performance of the Night" bonus, Beal also earned himself the honor of best flying knee knockout in UFC history, at least in our opinion.
What do you think? Did we miss any of your favorites?