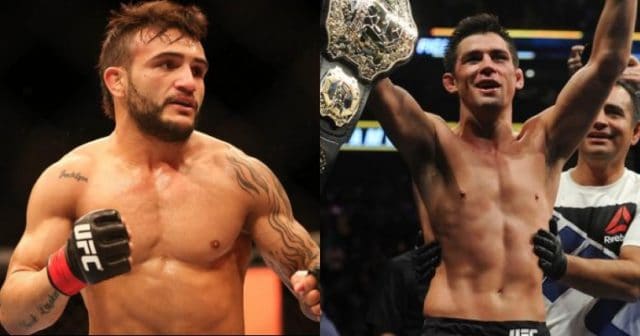 Despite missing weight for a record setting fifth time, No. 3-ranked UFC bantamweight contender John "Hands of Stone" Lineker extended his win streak to six in the main event of last night's (October 1, 2016) UFC Fight Night 96 with a split-decision victory over former two-time flyweight title challenger John Dodson.
With his latest victory, Lineker is eyeing another big name fight, and it appears as if he has his eyes set on the division's ring leader Dominick Cruz:
"Im a fighter, I will fight anyone UFC puts in front of me, but I think I deserve Dominick Cruz. It's time for me, I have four consecutive wins. It's my turn now.," said "Hands of Stone" during his post-fight interview.
Cruz is coming off of a dominant decision victory over bitter rival Urijah Faber last June, and has yet to sign on for his next fight. The list of possible opponents for "The Dominator" includes former champion TJ Dillashaw, who Cruz beat last January, Cody Garbrandt, and now Lineker, although it's currently unclear which man is leading the race.
If Lineker isn't given a title shot, perhaps a bout with No. 4-ranked Bryan Caraway would make sense. Caraway, who's coming off of a victory over the previously surging Aljamain Sterling, took to his official twitter to call out "Hands of Stone":
Congrats to @johnlineker for the win. You're #3. I'm #4. It would B an honor to fight you my man. Lets do it for the fans! #UFCPortland @ufc

— Bryan Caraway (@BryanCaraway) October 2, 2016

Who would you like to see the Brazilian slugger take on next?
If you enjoyed this story, please share it on social media!