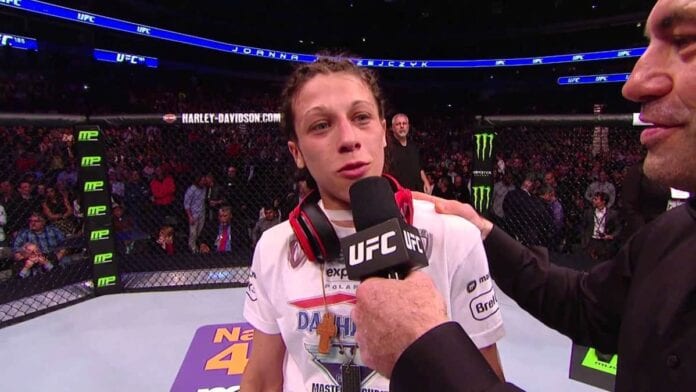 Women's strawweight champion Joanna Jedrzeczyk has quickly become a star in mixed martial arts (MMA) thanks to her picture perfect striking, and entertaining polish trash talk. She first made a name for herself when she met former champion Carla Esparza at March's UFC 185, absolutely destroying and battering Esparza to steal the title.
Jedrzeczyk recently defended her title for the first time at June 20's UFC Fight Night 69, once again using her deadly striking to pick apart and destroy top challenger, and Brazilian jiu-jitsu black belt Jessica Penne. Although she was able to dish out a one-sided beating over Penne, "Joanna Champion" wasn't able to come out completely unscathed, as reports surfaced that she had injured her thumb and may need surgery.
However, appearing on today's (June 29, 2015) edition of the MMA Hour with Ariel Helwani, Jedrzeczyk stated that after meeting with numerous doctors, she doesn't believe that she will need surgery:
"I went to hospital right away after the fight in Germany," Jędrzejczyk said. "They did the x-ray, they put the cast [on], and they let me go back to Poland and meet the doctors. They said I was going to need the operation. So I went to a good medical center in in Warsaw, Poland, so, yeah, they did the exams again, and they said I don't need surgery, so I'm very happy."
That doesn't mean surgery is definitely not happening, however, as the Polish striker will meet with a UFC doctor in the near future to decide what needs to happen. If surgery is needed, the champion will be forced out for around three months, but she did state that she hopes to fight again by the end of the year:
"We will see," she said. "I can be back in 3-4 weeks training [without surgery]. "If I'm going to have the operation, it's going to be three months. I want to fight by the end of the year."
In closing, Jedrzeczyk said that she felt the injury in the first round of her fight with Penne, but that a fighter can never show an opponent weakness or an injury. She stated that she just wanted to show everyone that she will be champion for quite some time:
"After the first round, I went to my corner, I let my trainer know about it, but it was a fight," she said. "Never, ever for 13 years of fighting career, I've never had big problems and injury. It was extra power for me, it's a fight. We're going to show that, in the fight we cannot show to our opponents that something happened. I am a fighter. I just wanted to show everyone I am going to be champion for awhile."
Who should "Joanna Champion" meet upon her return?