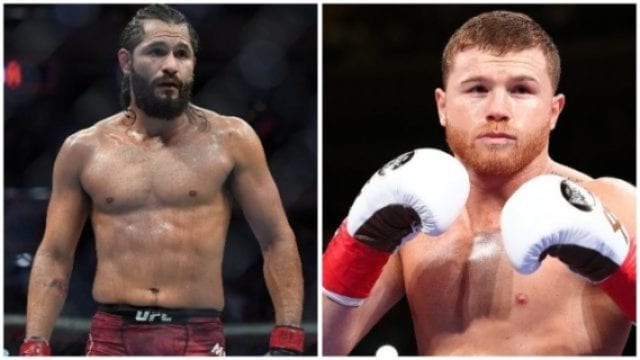 If he made the transition to boxing, Jorge Masvidal would surprise a lot of people according to American Top Team owner Dan Lambert.
Earlier this month, Masvidal made his intentions known of wanting to face Alvarez in a boxing match. It wasn't just to make headlines either — "Gamebred" was serious about it as he felt he brought unique tools to the sweet science.
It took Alvarez a while to respond, but he finally did on Tuesday, claiming he was not interested in fighting in MMA nor fighting an MMA fighter in the boxing ring, no matter how lucrative it was.
"With all due respect to everyone," Alvarez said. "I respect what they do in their sport, they're great fighters. But, boxing is just another thing."
Lambert agrees with Alvarez for the most part. But even still, he gives his fighter in Masvidal a better chance than most of succeeding in boxing.
"I'd give him more of a chance than I would give Canelo against Jorge in an MMA fight," Lambert told Lowkick MMA. "But whenever you're going into somebody's sport and that's not your sport, obviously you're at a huge disadvantage. I don't know what it is about combat sports that give people the impression that somebody can come in and just win. You never see somebody saying they can come off the street and get a tennis racket and beat Nadal because they used to play tennis when they were a kid.
"But everybody thinks in a fight, 'Oh hey, I can do that,' that guy's a pro. Boxing and MMA are related, there are a lot more similarities, one punch, who knows. But obviously Canelo would be a monster favorite in that fight."
White Would Make Canelo vs. Masvidal
If there was interest from Alvarez and his camp, Lambert believes it's more than possible UFC president Dana White makes the fight happen:
"He made Conor and Floyd," Lambert added. "On paper, I'd give Masvidal a bigger chance than I would've given Conor. But Dana is going to do what makes the most money for Dana and the UFC. If somebody offered Jorge an insane amount of money to take that fight, Jorge would be all over it."
To most, it would seem unlikely.
But then again, Masvidal has enjoyed a monster year that has seen him make the transition from a hardcore fan's fighter to a mainstream star.
Further proof of that came when Alvarez's light heavyweight title fight with Sergey Kovalev was delayed until the end of Masvidal's UFC 244 headliner with Nate Diaz earlier this month:
"The only thing less likely than that, would be the President of the United States coming to sit ringside for a fight, and maybe The Rock coming out to put the belt on the winner," Lambert said. "I mean, jeez, where this sport is going, the speed in which it's going, it just blows my mind every day."
If you enjoyed this story, please share it on social media!