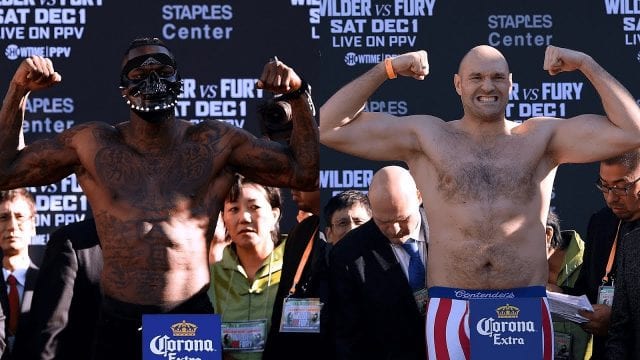 Tonight (Sat., December 1, 2018) Deontay Wilder meets Tyson Fury in one of the heavyweight division's best match-ups of the year from Staples Center in Los Angeles, California. LowKick MMA has all of the info on how to watch the Deontay Wilder vs. Tyson Fury live stream, start times, round-by-round results, and highlights for the fight.
The explosive personalities of both fighters were at their heights during yesterday's iconic weigh-ins. They should be, as some incredibly high stakes are on the line. The undefeated star Wilder brings a glaring 40-0 record into the fight including 39 KOs. He's defended the WBC heavyweight title seven times as a result of that power. Wilder isn't at the top of the pay-per-view world just yet. But he is coming off a huge come-from-behind knockout of Luis Ortiz in SHOWTIME's most-watched fight of 2018.
"The Gypsy King," meanwhile, is the enigmatic, outspoken presence looking to reassume his throne. He became the lineal champion by defeating Wladimir Klitschko in late 2015. Fury then gained over 100 pounds battling depression and substance abuse issues. He's fought hard to return from those issues. Fury picked up two wins in 2018. Some still wonder if it is too soon for him to take on Wilder, however.
It's happening regardless. The fight is also both men's debut on U.S. pay-per-view. That means it marks an interesting chance to see if either fighter can begin drawing an audience on pay television in the States. It also could decide the next contender to Anthony Joshua's three titles next year. That paired with Wilder and Fury's ferocious collective knockout power gives this bout all the makings of an exciting one. Here's all you need to know to watch the card (info via Bloody Elbow).
Watch Deontay Wilder vs. Tyson Fury Live Stream:
Start Time: The main card starts at 9 p.m. EST/6 p.m. PST. The main event is expected to start around 11:30 p.m. EST but that could change.
Live Stream: The fight is streaming through SHOWTIME's app  for $74.95. If you live in the UK, you can get it through BT Sport Box Office streaming app for £19.95. Subscribers in Italy, Switzerland, Germany, and Austria, can watch the fight on DAZN.
Traditional Pay-Per-View: The fight will air on SHOWTIME pay-per-view in the U.S. It costs $74.95 for standard definition and $84.95 for high definition. UK customers can buy the fight through BT Sport Box Office for £19.95.
Pay-Per-View Main Card:
WBC Heavyweight Championship Bout: Deontay Wilder vs. Tyson Fury (12 rounds)

Junior Middleweights: Jarrett Hurd vs. Jason Welbourn (12 rounds)

Heavyweights: Luis Ortiz vs. Travis Kauffman (10 rounds)

Heavyweights: Joe Joyce vs. Joe Hanks (10 rounds)
If you enjoyed this story, please share it on social media!