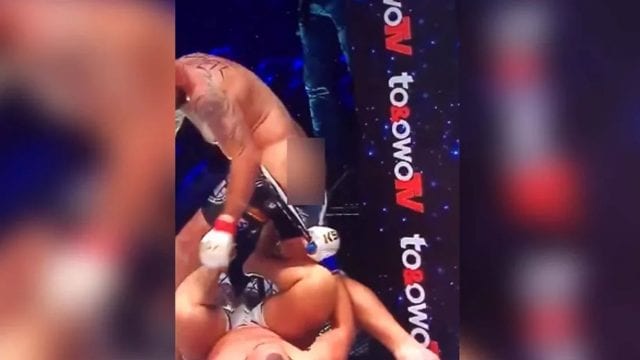 KSW fighter get his shorts pulled down during a fight thanks to his opponent. This video went viral over the weekend.
During the main event of KSW 47 from the Atlas Arena in Łódź, Tomasz Narkun grabbed at Philip De Fries' tights that lead to his rear end being exposed to the world.
KSW heavyweight champ De Fries won the fight that was a one-sided performance over the KSW light heavyweight champ Tomasz. He won the bout 50-44, 50-44, 50-45 on the judge's scorecards. De Fries was able to keep the pressure on Narkun on the ground without putting himself in a position to get tapped out.
In the clip, Narkun got frustrated with his work from the bottom and thus, grabbed De Fries' tights down. You can check it out here:
KSW 47 Results
Phil De Fries defeats Tomasz Narkun via unanimous decision (50-44, 50-44, 50-45)
Szymon Kołecki defeats Mariusz Pudzianowski via TKO (injury) – Round 1, 4:24
Norman Parke defeats Borys Mankowski via unanimous decision (29-28, 29-28, 29-28)
Satoshi Ishii defeats Fernando Rodrigues via split decision (30-27, 29-28, 28-29)
Aleksandar Ilic defeats Damian Janikowski via knockout (kick) – Round 3, 0:23
Marcin Wrzosek defeats Krzysztof Klaczek via unanimous decision (30-26, 30-26, 30-25)
Karolina Owczarz defeats Marta Chojnoska via split decision (29-28, 29-28, 28-29)
Maciej Kazieczko defeats Bartlomej Kopera via majority decision (30-26, 29-28, 28-28)
Pawel Politylo defeats Dawid Gralka via TKO – Round 2, 3:52
If you enjoyed this story, please share it on social media!