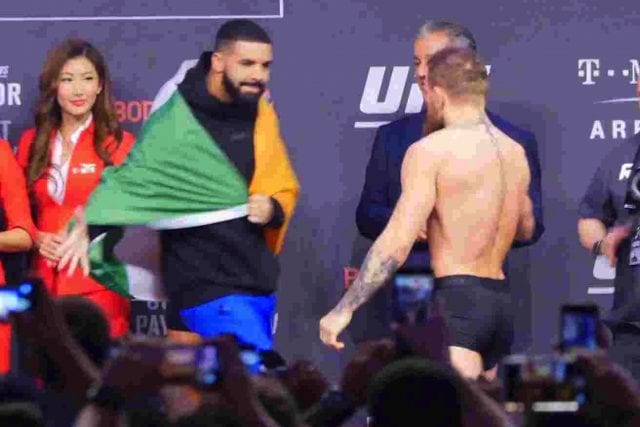 Rap superstar Drake is often at the forefront of big combat sports events. For example, he was spotted in Conor McGregor's camp prior to 'The Notorious" awaited return at last year's UFC 229.
But now it appears the infamous Canadian mogul is jumping into his own training. Boxer and trainer Hino Ehikhamenor recently posted two videos of Drake hitting the pads with him on his official Instagram. Overall, Drake didn't look terrible, but he could have some work to do in order to fight an actualboxer.
Regardless, Ehikhamenor said their 'opponents' were resting and eating 'taco,' whatever that means:
"on a Sunday night while our opponents are RESTING & eating taco – we're working on more GREATNESS! The Assassination World Tour begins in a few weeks – STAY READY!!! @champagnepapi🦉 @ovoroxx 🦉"
Just who his opponents would be remains to be seen. But Ehikhamenor seems to think Drake's progress is coming along nicely in only six weeks:
"in ONLY SIX WEEKS OF TRAINING…
the biggest room in the house: is the room for IMPROVEMENT!!! Keep Working CHAMP… @champagnepapi@ovoroxx#SAVAGESonly"
Drake has also been known to hype UFC featherweight champ Max Holloway, whom he mentioned on his Grammy-nominated album "Scorpion."
Perhaps "Blessed" will get the chance to hype up one of Drake's fights one day from the look of things.
If you enjoyed this story, please share it on social media!