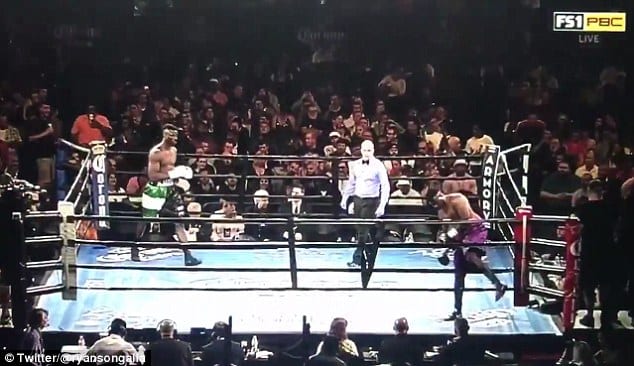 It's not every day a boxer leaves the ring during a fight.
However, that was just the case last night. Super heavyweight Curtis Harper immediately left the ring after the opening bell of his match against Efe Ajagba at last night's Premier Boxing Champions event from Minneapolis, Minnesota.
Right as Ajagba moved out of his corner to begin fighting, Harper simply sauntered through the ropes and left. Watch the video from Ryan Songalia on Twitter here:
First time I've ever seen this: heavyweight boxer Curtis Harper walks out of the ring at the opening bell for his fight against Efe Ajagba on live TV! Ajagba wins by DQ without a punch thrown #PBConFS1 pic.twitter.com/U8EH9Vaduf

— Ryan Songalia (@ryansongalia) August 25, 2018
The strange circumstance awarded Ajagba the victory due to disqualification.
Harper was questioned about his strange exit by reporter Jordan Hardy after the fight. He said he walked out because he wasn't getting paid enough:
If y'all are wondering I spoke to Harper and he said he walked out of the ring because he's not getting paid enough to fight and that he wants respect. ??‍♀️ #AjagbaHarper #PBConFS1

— Jordan Hardy (@PBCJordanHardy) August 25, 2018
Harper's strategy is one way to hold out for more money. Whether it works or not remains to be seen.
It couldn't help all that much, however, due to the rashness of his actions.
If you enjoyed this story, please share it on social media!