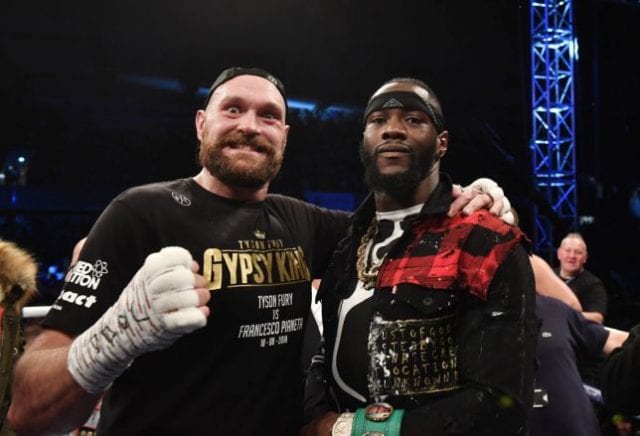 Tyson Fury and Deontay Wilder fought to a controversial draw last night and immediately after the boxers took to the mic to call out 'chicken' Anthony Joshua.
It may have been a controversial decision, but by all accounts, it was one of the most entertaining heavyweight fights in recent memory. Fury and Wilder went toe-to-toe for the full 12 rounds last night at the Staples Center in Los Angeles, California. They may have saved the division in the process.
After the fight, Fury had some words for 'another certain heavyweight'.
"There's another certain heavyweight out there," Fury said before starting to cluck like a chicken. "Chicken! Chicken! Joshua, where are you? Where are you, AJ?"
The American Wilder chimed in right after with his agreement:
"I 100% agree with that," Wilder said. "We're the two best in the world, and we proved it tonight, you know. You put two warriors in the ring, that want to put on a show for the fans, you get a great fight."
Fury didn't stop there, however. During the post-fight press conference, the Brit explained his earlier comments. He also said Joshua wouldn't stand a chance against Wilder.
Fury Says Wilder Beats Joshua
"It's no secret that Anthony Joshua did not want this fight," Fury said. "He didn't want it for a reason: because Deontay Wilder is the most fiercest puncher in boxing history, in heavyweight division history. And I saw that tonight and I felt it. No wonder AJ didn't want no part of that right hand. He can't move like me, he would have been nailed."

"Wilder came over to the UK and showed up. Called out Joshua, he got offered a lot of money. A lot of money. Money that could change countries, probably. Make broke countries rich, he turned it down. And I come in here, I said to Deontay, I'm sorry for what happened here, but you offer me the fight, I will not turn it down, I promise you. I am the fighting man and I'll step up and represent my country, and tonight I did that."
The American echoed Fury's sentiment when he got his turn to speak.
Wilder On Joshua
"I'd love to fight Joshua, I've been trying to fight him," Wilder said when it was his turn on the podium. "Everyone knows that it's no secret. But those guys got other plans, and we'll see what happens. But I'll be satisfied either or, to be honest. Me and Fury put on a hell of a performance tonight. I'd love to go back into a rematch or I'd love to fight Joshua, so I think I'm in a win-win situation. I know what the fans want, and I'm with the fans too, you know?"
Wilder's manager Shelly Finkel reminded the press that he had offered Anthony Joshua $50 million to fight Wilder.
"That was already done, and Joshua declined it," Finkel said. "That was an offer to make a fight, the offers they made Deontay were to not make a fight. So Deontay will fight anyone, and he knows, and I know: the next time he fights Fury, he'll be better. I don't know if Fury can be better."
Watch the Fury-Wilder post-fight press conference spot below:
If you enjoyed this story, please share it on social media!