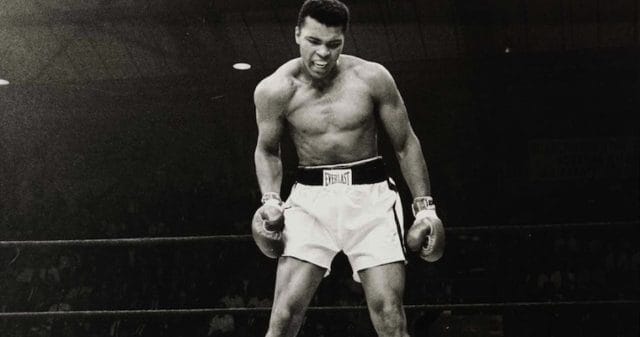 The combat sports community received unfortunate news late last night (June 3, 2016) as it was reported that boxing legend Muhammad Ali had passed away at the age of 74.
The former World Heavyweight Champion transcended not only the combat sports world, but the sports world as well as the world in general like few other. "The Greatest", as he referred to himself as, was truly a cultural icon.
With that being said, his passing is being felt by the masses, and the mixed martial arts (MMA) world fares no different.
Let's take a look at how twitter reacted to the passing of a hero:
Rest in peace to my biggest inspiration pic.twitter.com/gqIuuxSpC1

— Jon Bones Jones (@JonnyBones) June 4, 2016
"I hated every minute of training, but I said, don't quit. Suffer now and live the rest of your life as a champion"

— Jon Bones Jones (@JonnyBones) June 4, 2016
R.I.P. https://t.co/aHn2Fo2KSX

— Tito Ortiz (@titoortiz) June 4, 2016
???? pic.twitter.com/pYGcNp5JqV

— Dana White (@danawhite) June 4, 2016
Nobody will ever come close to this mans greatness.
And if they do, they better wake up and apologise. #RIPAli pic.twitter.com/ED2wgignB2

— Conor McGregor (@TheNotoriousMMA) June 4, 2016
Rip to the champ https://t.co/YKrnRGm8aA

— Nathan Diaz (@NateDiaz209) June 4, 2016
And he really did.. Rest in beautiful peace #MuhammadAli ❤️ peace and love to the family. #legendforever pic.twitter.com/BmKYVlpiYe

— Gina Carano (@ginacarano) June 4, 2016
Rest in peace, champ. Thank you for inspiring, motivating and changing the game forever. #Ali pic.twitter.com/FqEJR7Hc9z

— Dave Sholler (@Sholler_UFC) June 4, 2016
????RIP one of the Greatest combat athletes to walk the planet! @ Manhattan Beach, LA https://t.co/xn4HQ7gt4H

— Urijah Faber (@UrijahFaber) June 4, 2016
#RIP to an awesome fighter who was inspiration to many and to me. Thanx for sharing your gift with the world. pic.twitter.com/LTxNrs8GkG

— John Dodson III (@JohnDodsonMMA) June 4, 2016
I'm fighting tears as I make this video. Ali gave me hope to believe in myself when no one else… https://t.co/TXi0VxXykI

— Tyron T-Wood Woodley (@TWooodley) June 4, 2016
RIP Muhammad Ali! ???? pic.twitter.com/Z5L7AVAqPc

— Derek Brunson (@DerekBrunson) June 4, 2016
#RIP To the Greatest https://t.co/OrfcFUIfQy

— Frankie Edgar (@FrankieEdgar) June 4, 2016
#RIPMuhammadAli pic.twitter.com/L28mkz5gP0

— Miesha Tate (@MieshaTate) June 4, 2016
Каждая душа вкусит смерть. #ALLAHistheGreatest #GreatestofAllTime #MuhammadAli #Legend https://t.co/2FmIlB4qbH

— khabib nurmagomedov (@TeamKhabib) June 4, 2016
Today my heart goes out to a pioneer, a true legend, and a hero by all means! Not a day went by… https://t.co/LKl0gI4inf

— Floyd Mayweather (@FloydMayweather) June 4, 2016
If you enjoyed this story, please share it on social media!