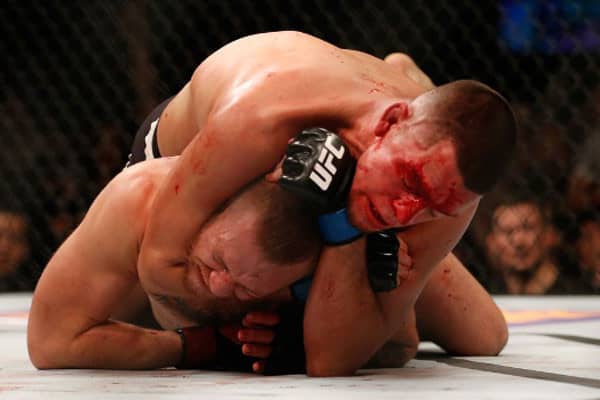 4. Nate Diaz vs. Conor McGregor – UFC 196
Riding high at the peak of his career, UFC featherweight Conor McGregor was all set to make UFC history when he challenged Rafael dos Anjos for his lightweight title and possibly be the first man to ever simultaneously hold two belts in different weight classes.
Unfortunately for McGregor Dos Anjos would injure his foot during training camp and would be forced to pull out of the historical bout.
Instead McGregor would be met by a man who would change his career forever, Nate Diaz. Diaz would answer the call to save the main event of UFC 196, creating an even more enormous bout as fans clamored to see the two trash-talking enthusiasts go head-to-head with one another.
This was the first time anyone had rivaled the Irishman on the mic, and seemed un-phased by his legendary mental warfare ability.
McGregor seemed to clearly have Diaz's number in the first round, as he had the man from Stockton in a bloody mess by the end of the first five minutes of the fight.
The second round, however, was a completely different story. McGregor emptied his gas tank with his offensive output in the first round, and Diaz was able to capitalize by rocking 'Notorious' with a clean one-two combo to force a lackluster takedown attempt out of desperation form McGregor; eventually leading to Diaz utilizing his Gracie jiu-jitsu black belt capabilities to lock on a fight-ending rear-naked choke for the win.

Diaz would flip the MMA world upside down by shocking the world with his victory that night and ending McGregor's 15-fight win streak, his first loss in over six years.