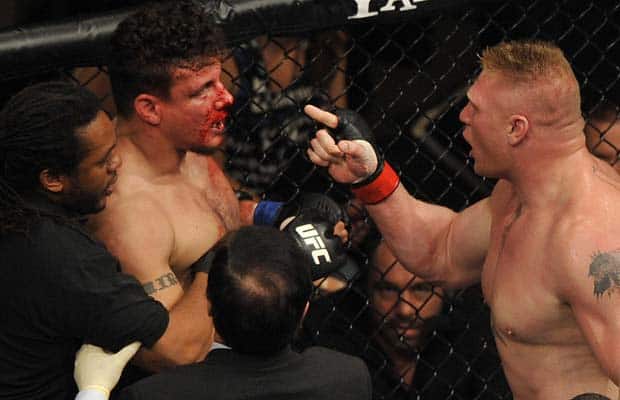 Brock Lesnar vs. Frank Mir II – UFC 100
Brock Lesnar is without question one of the biggest stars in UFC history, yet his Octagon debut didn't go as planned, when he was submitted by former champion Frank Mir in the first round of their fight at UFC 81. After losing to Mir, Lesnar won back-to-back fights over Heath Herring and Randy Couture to become the heavyweight champion, an accomplishment that only increased his star power.
Lesnar and Mir had a tremendous amount of bad blood between them, and the two were booked to rematch at UFC 100 in July 2009, one of the most monumental UFC events to date. Lesnar had something to prove, and he would get his chance to do so at a mega event, making his rematch with Mir one of the most exciting of all-time.
In the end, Lesnar battered Mir, scoring a second-round TKO victory.