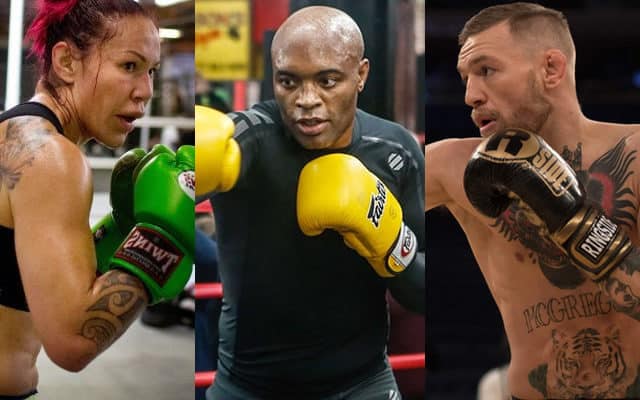 Interest in Conor McGregor's heated sparring wars in the gym with former boxing champion Paulie Malignaggi have generated so much interest over the past few weeks that at times, they've even threatened to overshadow the Irish superstar's upcoming mega-fight with Floyd Mayweather this weekend (Sat., August 26, 2017) from the T-Mobile Arena in Las Vegas, Nev.
However, over the years, there have been numerous other occasions where stars from the two sports have sparred in the gym together, and With Mayweather vs. McGregor looming large on the horizon, now seems like the perfect time to dig back through the archives and unearth ten of the best examples featuring some of the biggest names in mixed martial artists sparring with top talents in the art of 'the sweet science'.
10. Anderson Silva vs. Wild Card Gym Fighter
Even during his long reign as the UFC's middleweight champion, legendary MMA fighter Anderson Silva made it clear that he was interested in competing in the sport of boxing and has stated many times he has the ambition to fight hall-of-famer Roy Jones Jr. in the squared circle.
In 2009, Silva trained for a week at Freddie Roach's 'Wild Card' gym, humbly telling the world renowned boxing coach that "I'm pretty good at MMA, but I'm not too good at boxing."
Roach decided to find out for himself and watched intently as he put Silva into a sparring session again an unidentified opponent in the gym.
Silva cruised through the rounds that followed, but it wasn't until Roach later watched the UFC legend competing in the Octagon that he realized just how talented he was.
"I learned that he was just toying with my guys because when I saw him fight for real, he was a whole different guy," Roach told Sherdog.com in 2012. "When he wants to turn it up, he's the best."
Roach has also gone on record stating that Silva had the best boxing of any MMA fighter he'd trained with, beating out the likes of Georges St-Pierre, BJ Penn and Nick Diaz.
If you enjoyed this story, please share it on social media!