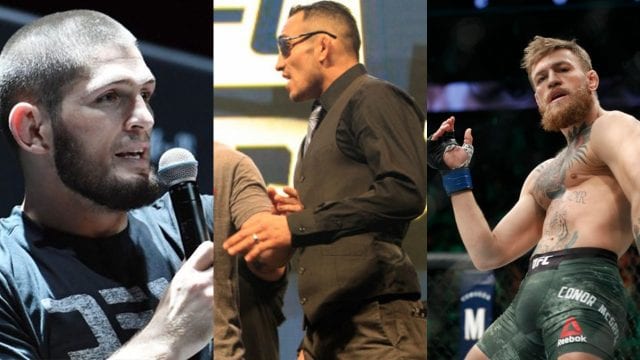 Tony Ferguson goes off on two of the biggest names in the sport today.
Those stars are Conor McGregor and UFC lightweight champion Khabib Nurmagomedov, who was in the news this week after a controversial exchange of words on social media. The former interim lightweight champion has been consistent in saying that he will only fight for the belt and it appears that his latest attempt proves just that.
This rant all started once ESPN's Brett Okamoto brought up the Westgate sports book in Las Vegas is accepting action on a Nurmagomedov/McGregor rematch. Ferguson saw this and as a result, went on a wild rant.
"You were finished… Tapped out & Quit like a bitch. Now you're stepping on my toes you false idols @TheNotoriousMMA @ParadigmSM @TeamKhabib Ready when you are Fathead. Don't dodge me like #ufc209 Coward. No Loyalty to the game. -Real Champ Champ."
"Can't wait to snap you down to your knees @TeamKhabib I've got a special necktie picked out just for you."
"Champ Shit Only. Have an Incredibly Phenomenal day! Remember to Smile & Share a Laugh my Crew. Stay Hardcore & try not to piss anyone off today unnnnnnnless it's Mcnuggets or Team Fathead. Go for it, That is all- Champ -XTA- Hometeam."
It is expected that Khabib will fight the winner of the UFC lightweight interim fight between Max Holloway and Dustin Poirier at UFC 236. Thus, it leaves Ferguson waiting for a chance in line against Khabib.
If you enjoyed this story, please share it on social media!