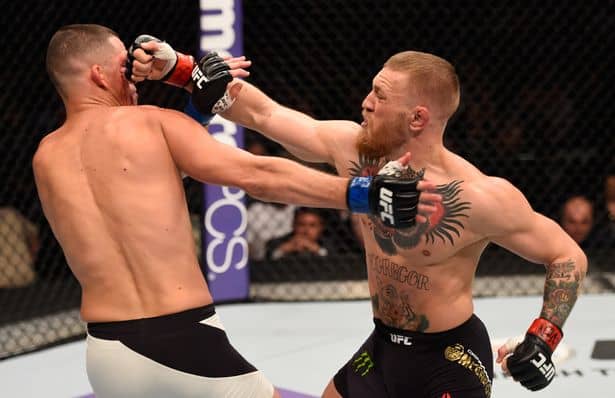 Conor McGregor vs. Nate Diaz
McGregor's first attempt to become a two-weight world champion was due to take place at UFC 196 in March of 2016 against the lightweight titleholder at the time, Rafael dos Anjos, but the champ broke his foot during the final days of his training camp, leading to a desperate search for a new opponent.
A few months earlier, Nate Diaz had memorably called out McGregor in an expletive-ridden rant following an impressive win on FOX and so he became the No. 1 pick to fight 'The Notorious'.
When the UFC came calling, Diaz was drinking tequila while partying on a yacht in Cabo, but he kept that from them, instead claiming that he was in training for a triathlon.
Diaz demanded that the fight be at 170 pounds instead of 155 pounds and McGregor didn't flinch, feeling confident that the Stockton native was going to be his next victim.
However, it didn't work out that way, as Diaz withstood the best McGregor threw at him and then turned the momentum, hurting the tiring superstar on the feet before submitting him by rear-naked choke in the second round and sending shockwaves around the world.

Diaz scored a $500,000 payday for his late call-up, but that paled in comparison to the millions he would go on to earn for their rematch a few months later at UFC 202 – the biggest pay-per-view in company history.