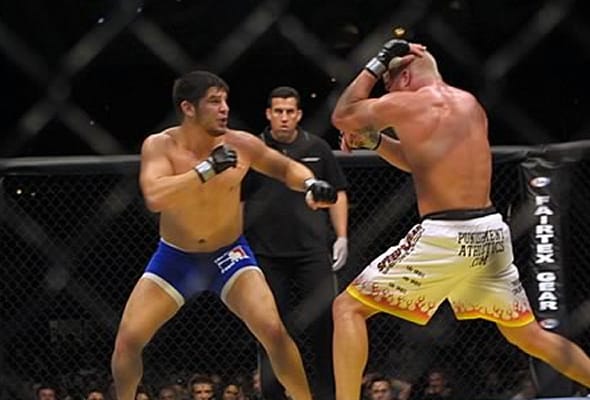 Tito Ortiz vs. Patrick Cote
UFC 50 in October of 2004 was supposed to be headlined by one of the company's biggest stars, Tito Ortiz, in a trilogy fight with Guy Mezger, but alarmingly his opponent suffered a stroke during fight week and was pulled from the lineup.
The UFC began desperately hunting for a last-minute substitution to keep Ortiz on the card, but it was difficult given that there were only four days until fight night and so the best they could do was promote Patrick Cote to the main card.
Back then Cote was a young, unknown prospect with just a 5-0 record who had been scheduled to make his UFC debut deep in the preliminary card of the event, but he talked a good game, claiming that he'd punch Ortiz harder than Chuck Liddell could.
He wasn't able to prove that on the night though, with Ortiz emerging victorious via unanimous decision after three rounds.
Nonetheless, UFC officials appreciated Cote's fighting spirit and the fact he'd gone the distance with the former champion, so they ensured that he would get another fight and he would go on to enjoy a long career in the Octagon lasting well over a decade until finally retiring in 2017.