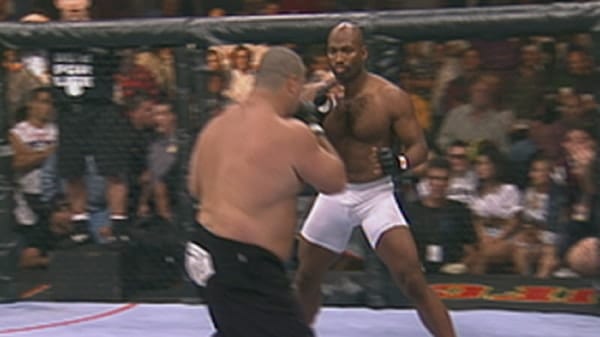 Tank Abbott vs. Maurice Smith
UFC 15 in October of 1997 was supposed to feature a heavyweight title bout between Maurice Smith and Dan Severn, but it was nixed on the week of the fight when it emerged that Severn had suffered an injured hand the previous weekend at PRIDE's first-ever event in Japan.
With just a few days remaining until the event, the UFC turned to the popular brawler 'Tank' Abbott, who wasn't training at the time and claimed to have "slid off the barstool" to accept the heavyweight title opportunity.
Needless to say that wasn't exactly the ideal preparation to fight the champion, who had won the title in a 'Fight Of The Year' performance against Mark Coleman just a few months earlier.
Smith wisely looked to tire Abbott out in the early stages of the fight and made him exert a lot of energy grappling in the opening minutes of the fight, before then punishing him on the feet with heavy leg kicks that led to the exhausted Tank verbally submitting, declaring, "I've had enough."