Chael Sonnen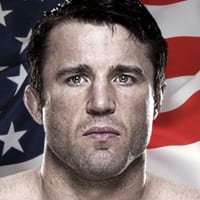 DOB: April 3rd, 1977
Birthplace: Miluakie, Oregon
Nickname: The American Gangster
Gym: Team Quest, Gracie Barra
Style: Wrestling
Weight Class: Middleweight, Light Heavyweight
Championships: N/A
Chael's amateur wrestling career
Chael Sonnen began wrestling at an early age in his home state of Oregon. In high school, he placed second place. When he was in high school, he watched videos of the UFC and wanted to fight there  after school
To try and prepare for his dream, Chael began boxing training to go along with his wrestling training. He would have one pro fight winning by decision at 19 years old in 1997.
Sonnen wouldn't fight again for 5 years as he'd go to college and wrestle. He first attended Brigham Young University before transferring to Oregon University.
At OU, Sonnen would get 2nd place in the Pac-10 championship twice with all american honors. He would also place 2nd in the Greco Roman World University Championship.
Along with being an MMA fan, Chael was also a pro wrestling fan. Trying out at the WCW Power Plant in 1998 after high school.
Chase's early MMA career
Sonnen would resume his MMA career after finishing college beating Jason "Mayhem" Miller in his 2nd fight. He would go 6-0 before losing his first fight to MMA vet Trevor Prangley.
He would accumulate a record of 15-6-1 before making his first run in the UFC.
Chael's first UFC run
In Sonnen's first UFC match he would lose by heel hook in a rematch with Babalu Sobral. He'd his next UFC fight in a rematch against Trevor Prangley and then lost by armbar to Jeremy Horn.
Putting his record at 16-8-1. He wouldn't get re-signed by the UFC until years later.
Independents and WEC
Sonnen would put together a 5 fight win streak before being offered a title fight with the WEC. He would lose the title fight to Paulo Filho by arm bar in the 2nd round.
Chael would bounce back in his next fighting winning by decision and then rematching Paulo Filho. The champion failed to make weight for the title fight and Chael would win a decision in a non-title bout.
Chael's UFC return
With the WEC merging into the UFC, Chael would find himself back in the UFC. He'd lose to BJJ world champion Demain Maia in his return by triangle choke.
Although Chael would win his next 3 fights putting him in line for a title bout against Anderson Silva. Sonnen would surprise the champion, dominating Silva with wrestling for 4 straight rounds.
It wasn't until the 5th round, where Sonnen had a mental lapse allowing Silva to lock in a triangle choke. Submitting Sonnen to retain his title.
Chael's other title fights
After losing to Silva, Chael would win his next 2 fights against Brian Stann and Michael Bisping. Putting him in line for a rematch against Anderson Silva.
In this fight, Silva would not be out grappled, stuffing Chael's takedown to win by TKO in the 2nd. Although Chael would step in on short notice to fight light heavyweight champion Jon Jones in his next fight.
Jones would stop Sonnen in the first round with strikes on a severely broken toe.
Sonnen's release and Bellator run
After his title fights, Sonnen would go 1-1 before failing a second drug test. The UFC released Sonnen from his contract and he served a 2 year suspension.
Sonnen would make his comeback in 2017 with Bellator MMA. He would go 2-3 with the company and announce hit retirement after losing to Lyoto Machida.