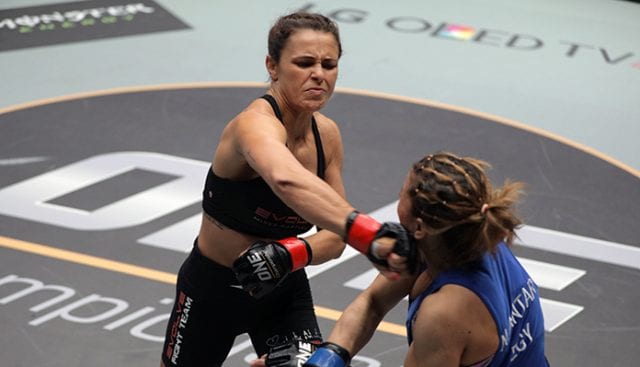 Brazilian submission specialist Michelle Nicolini is confident that her opponent, reigning ONE Women's Atomweight World Champion Angela "Unstoppable" Lee, won't be trying to get into a grappling match with her at ONE: MASTERS OF DESTINY on Friday, 12 June at the Axiata Arena in Kuala Lumpur, Malaysia.
Nicolini and Lee are set to clash in a women's strawweight contest, which will serve as the co-main event for the stacked card. 
"I know Angela well, and I have had the chance to train with her before," said Nicolini of her upcoming opponent. "She is a good striker, and as we have all seen, her Jiu-Jitsu is very dangerous as well."
Lee is dangerous on the ground with seven of her nine career victories coming by submission. 
Nicolini, however, is on a different level when it comes to grappling. 
The 37-year old Sao Paulo-native is an eight-time BJJ World Champion, a three-time Pan American BJJ Champion, and a four-time ADCC medalist, among many other accolades in the martial art. 
"She is a well-rounded competitor, but I believe she will try to keep the fight standing when we share the cage in Kuala Lumpur," Nicolini added. 
Lee will be competing in the strawweight division for just the second time in her career — her first time resulting in a TKO loss to reigning ONE Women's Strawweight World Champion Xiong Jing Nan. 
Nicolini, a long-time strawweight, said Lee could be a mainstay in the 56.7-kilogram women's division as long as she remains competitive in the weight class. 
"I am of the mindset that we can do whatever we believe in. For me, the women's Atomweight division is super difficult to make, especially with ONE Championship's format. I, personally, could not go down and make weight at women's Atomweight," said Nicolini. 
"If Angela believes that she can continuously keep coming up to the women's strawweight division and compete at the same level, then we will see it."
Nicolini herself is coming off a loss, falling short against former title contender Tiffany Teo back in November. Nicolini has kept herself busy since then by continuously training, learning new things, and addressing the mistakes from her previous loss. 
"Since I came back from my last fight back in November, I have been training so that I continue to learn new things and I am also trying to fix the things that didn't work for me during that fight."
"The thing with me is, I do train all the time, even when I don't have a fight coming up, that way, I can keep my body in good condition all the time. It may not be at 100% all the time, but I know that it is in good condition because I am always training," she concluded. 
If you enjoyed this story, please share it on social media!