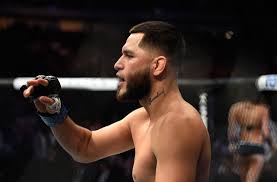 Jorge Masvidal
"Gamebred" has been lobbying the UFC for a high-profile fight; could Askren be the big fight Jorge Masvidal is seeking?
Masvidal has long been one of the welterweights most talented fighters. That being said, I believe he has been underrated and underappreciated for far too long.
"Gamebred" more than held his own when he faced feared BJJ grappler Demian Maia at UFC 211. Although he lost, Masvidal displayed a level of grappling that only a few posses.
As of today (Oct 25, 2018) Masvidal is not booked in an official fight. If the 'trade' does become finalized and Askren becomes a UFC fighter, a "Funky" Ben vs "Gamebred" match-up could make sense.