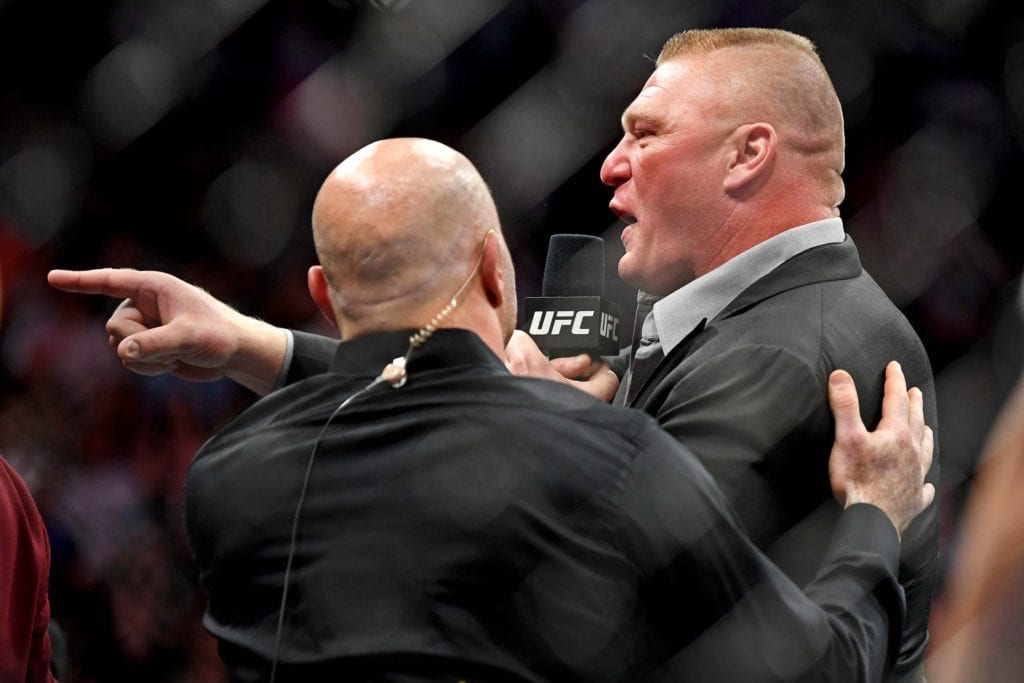 Cormier vs. Lesnar Is About To Be A Circus
The "Beast" has returned to the octagon!
Brock Lesnar made his presence known before the main event of UFC 226 even got on the way. There was little doubt in anyone's mind what was coming next. Albeit, there was some unforeseen drama.
Cormier, always the opportunist, didn't miss a beat in his post-fight interview with Joe Rogan. The newly-crowned heavyweight champion would quickly take to the mic and call out the pro wrestler. Lesnar obliged the new champ and quickly made his way across the octagon to shove the substantially smaller "DC."
Watch "DC" call out Brock Lesnar right here:
Daniel Cormier calls out Brock Lesnar. pic.twitter.com/J6hbycxJjw

— Chamatkar Sandhu (@SandhuMMA) July 8, 2018
Always the showman, Cormier went into WWE mode and immediately began selling the massive fight. But is Lesnar too big for "DC"?
Maybe. When that human mountain of a man known as Brock Lesnar marched across the octagon and pushed Cormier, I realized just how freightingly large Lesnar really is.
Check it out:
Brock Lesnar gets into the Octagon and shoves Daniel Cormier. pic.twitter.com/IYUimGfBcJ

— Chamatkar Sandhu (@SandhuMMA) July 8, 2018
Can "DC" overcome yet another seemingly impossible hurdle? I wouldn't bet against him.
Brock Lesnar is back in the USADA testing pool, and if his actions at UFC 226 are any indicator of his intentions, the "Beast" and the GOAT will settle their score later this year.
If you enjoyed this story, please share it on social media!