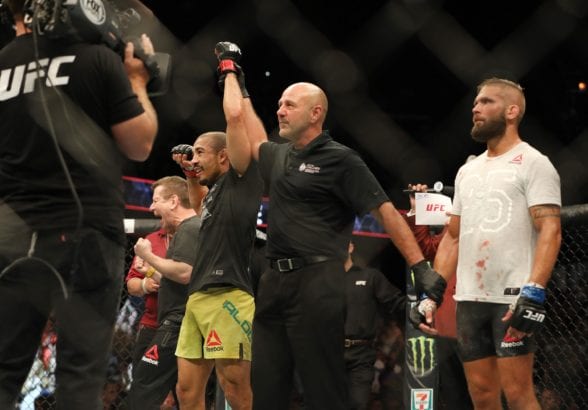 Jose Aldo isn't done just yet:
Often known as the "King of Rio," the former long-reigning featherweight champion was the King of Calgary last night (July 28, 2018) at UFC on FOX 30, as he did what few fighters have – went toe to toe with Jeremy Stephens and prevailed in a slugfest.
The last few years have been difficult ones for the Brazilian legend. After first defending the title at UFC 129 and ultimately defending it seven times, Aldo would drop three of his next four fights, beginning with a 13-second KO loss to Conor McGregor at UFC 194 at Madison Square Garden.
Aldo rebounded with a solid performance against Frankie Edgar at UFC 200. But subsequent back-to-back losses to current champion Max Holloway would once again bring into question the Brazilian's life expectancy at 145 pounds.
"Junior" answered those questions in a big way with a win over previously surging veteran Stephens in their co-main event fight, leading some people to wonder: Does Max Holloway simply have Aldo's number?