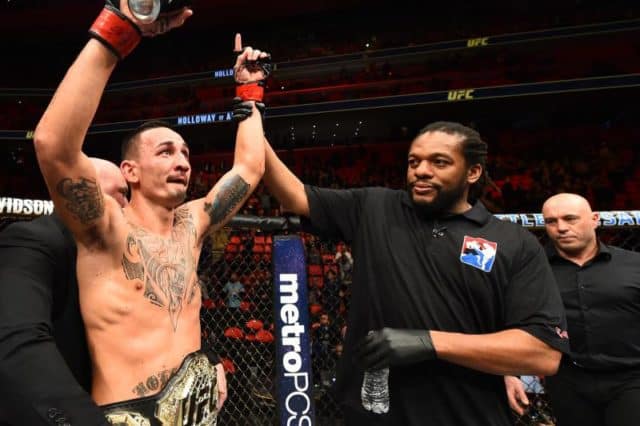 Max Holloway will be competing for a second UFC title this weekend. Albeit an interim belt, it's a title in a different weight class nonetheless.
The current 145-pound king jumps up to 155 pounds to face Dustin Poirier for the interim lightweight throne. While Khabib Nurmagomedov is waiting out a suspension until this summer, either Holloway or Poirier will solidify themselves as "The Eagle's" next opponent for a unification bout. Holloway vs. Poirier II main events UFC 236 on pay-per-view (PPV) this weekend (Sat. April 13, 2019).
Holloway and Poirier is certainly a fun match-up; however, featherweight Renato Moicano doesn't believe the 145-pound champ will get the job done against "The Diamond." Speaking to MMA Junkie, Moicano foresees a loss for the Hawaiian titleholder before coming back down to featherweight for a title defense:
"It's maybe an opportunity for another guy to take that belt because Max is going to fight with Dustin," Moicano said. "I don't think he will win, but let's see. The fight is always tough, but I'm confident with the win of Dustin. I think Dustin will win and Max will come to featherweight to defend his title."
If things play out the way Moicano believes they will, he likely won't be next in line for the title shot. The Brazilian comes off a TKO loss to featherweight legend Jose Aldo in February. He'll have to string together a few more victories before getting back in the title conversation:
"I know I will return better," Moicano said. "I take that loss, I return from that loss and I know I come back better."

If you enjoyed this story, please share it on social media!