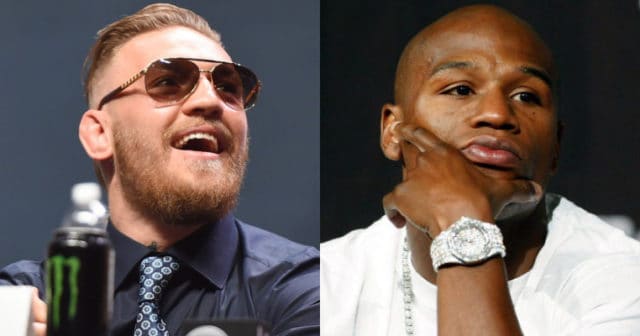 With yesterday's (Mon. June 12, 2017) news that Floyd Mayweather's Mayweather productions had reserved an August 26 date for a professional boxing event at the MGM Grand in Las Vegas, the seeming never-ending hype and speculation of "Money's" rumored bout with Conor McGregor suggested the fight may actually be close to having a date.
McGregor was reported to have finalized his side of the deal according to UFC President Dana White (so we can take that for what it's worth), but negotiations with Mayweather, which will almost certainly prove much more difficult, are ongoing and uncertain to say the least.
In true "Notorious" form, McGregor has attempted to goad Mayweather into signing on for the bout on numerous occasions with prodding social media posts, and this week is no different. The Irish champion made light of Mayweather's recent training session by suggesting it was actually his father, Floyd Mayweather Sr., who had put the gloves.
A brutal burn from McGregor to be sure, but the collective combat sports world will still be forced to hold its breath waiting on Mayweather's decision to fight him as MMA suffers in the meantime, devoid of its biggest star by far and struggling to put together a meaningful pay-per-view in terms of overall numbers regardless of how strong the action is in the cage.
Money is what motivates "Money," obviously, so the UFC is going to have to pony up nine figures to get the aging Mayweather out of retirement. McGregor would most likely receive slightly less; however, it's hard to imagine a scenario where he resumes fighting in the octagon three times a year for a fraction of the cost.
The drama and build-up would be memorable for this one. But would it be a fight that kills mixed martial arts? If you enjoyed this story, please share it on social media!