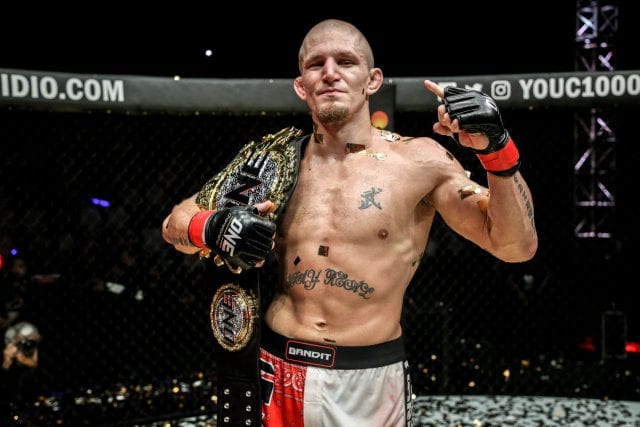 ONE WARRIOR'S DREAM was an event packed with excitement and finishes in Jakarta, Indonesia. A total of 10 bouts ended before the final bell of the last round including the main event and co-main event bouts. Here are the five best finishes on the card.
Bruno Pucci def. Xie Chao via Guillotine Submission
As a Brazilian Jiu-Jitsu practitioner, Pucci is elite. He wasted no time taking advantage of Xie as he left his neck vulnerable during a failed grappling sequence. Pucci sold out for the choke and as you can see in the highlight below, the gamble paid off.
Xie attempted to fight off the pressure of the choke, but he failed and ultimately went to sleep. The victory ran Pucci's record to 6-3 as a professional and it helped him rebound from a KO loss to Emilio Urrutia in his last bout.
Brown Pinas def. Yohann Fairtex Drai via KO on a Spinning Back Elbow
Muay Thai fans should keep an eye on Pinas. He's the kind of dynamic striker capable of finishing opponents in a flash. Yohann found that out firsthand on Saturday when the 27-year-old French striker landed a devastating spinning back elbow to finish him in the second round of their preliminary bout.
It was a lightning-quick strike and his dynamic striking ability will put future opponents on notice when they face Pinas.
Elipitua Siregar def. Muhammad Imran via Rear-Naked Choke Submission
Indonesian native Siregar has been on a tear. He kept his professional MMA record perfect on Saturday with a second-round submission win over Imran. Siregar is now 3-0 as a professional, but he's already considered Indonesia's top MMA prospect. Against Imran, Siregar expertly took his opponent's back, used the fence for leverage and locked in the choke. Within seconds, Imran was forced to tap out.
Siregar should slowly, but surely start to receive some tougher tests in the cage. If he can continue to get bouts to the ground, he could ultimately be a problem for most in the flyweight division.
Nieky Holzken def. Cosmo Alexandre via KO
The highly anticipated promotional debut for Nieky Holzken bolstered ONE's Super Series roster and the Dutch legend quickly proved his worth and skill against Cosmo Alexandre. This was their second bout. Holzken won the first by decision back in 2010, but he'd win the rematch more emphatically.
It was something about the second round on this night, because, in the waning seconds of the frame, Holzken landed an overhand right that put Alexandre in peril. An uppercut snuck in and turn out the lights.
The 34-year-old Holzken didn't appear to have lost a step despite competing in his 107th career kickboxing match. Holzken's next fight hasn't been announced, but he will have a tough act to follow after that finish.
Zebaztian Kadestam def. Tyler McGuire via KO
ONE crowned a new welterweight champion on Saturday and Zebaztian Kadestam left no doubt. As he pursued a tiring McGuire, Kadestam landed a looping right hand on his opponent's chin. McGuire went down and Kadestam followed him to the ground planting a knee in his face on the way to the mat.
As soon as he made contact, McGuire was out and the referee almost immediately called a halt to the bout. Kadestam's powerful knee strike not only won him the world title, but it also handed McGuire his first career loss. After his title-winning victory, here is what Kadestam said after the loss:
"I feel pretty good. I want to say I'm sorry I didn't put the pace that I usually do," Kadestam told Mitch Chilson in his post-bout interview.

"His shots were so powerful. I couldn't get my combos going. I tried to entertain as always. Anyways, thank you so much, it feels amazing."
We'll all be watching for Kadestam's first title defense, but for now, he's likely just enjoying his win.
If you enjoyed this story, please share it on social media!