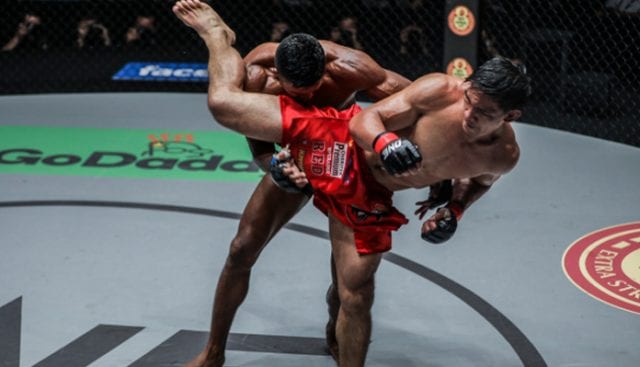 Newly minted world champion Eduard Folayang has signalled his intent to defend his crown early in the New Year. But the undisputed ONE Lightweight World Champion believes he will have to wait for a crack at promotion newcomer Eddie Alvarez.
As ONE Championship matchmakers start to pair competitors for next year's World Lightweight Grand Prix, slated for Japan in March, Folayang declared he wants a piece of Alvarez.
However, Folayang believes ONE Championship already has a matchup for Alvarez's debut – Japanese legend Shinya Aoki.
"I think Shinya is already in line (to challenge) Alvarez, so I'll just wait for the year (to wind up) and wait for updates from ONE Championship," Folayang said.
"Of course, I would like to test my skills against Eddie, but I don't know if that opportunity will come. Shinya is already in line. I could fight Eddie or even Shinya, so those are the two possible options, but I don't know (what will happen).
"Maybe I can defend the lightweight belt while they're in the Grand Prix?"
Less than a week after claiming the ONE Lightweight World Title for the second time in his career with a win over Singapore's Amir Khan at ONE: CONQUEST OF CHAMPIONS in Manila, Folayang plans to have a break and reflect on a successful year in the cage.
"For now, I'll take a rest and see what things are coming up for next year," Folayang said.
"I'll be waiting for updates, especially on the Lightweight Grand Prix. I know there are some big names in the division, especially Shinya and Eddie Alvarez. I know a lot of fighters are improving every day, so I need to make sure I'm improving as much and they are improving."
Folayang, a veteran at 35, fancies his chances against Alvarez, who many believe will be an unstoppable force in ONE.
"Every athlete has a weakness, so it's just a matter of preparation and confidence," Folayang said.
"He's experienced, he was fighting for almost a decade and it would be fun to test my skills against him. I'm a martial artist, and whatever challenges come, I will go for it. Challenges make us better than yesterday." If you enjoyed this story, please share it on social media!