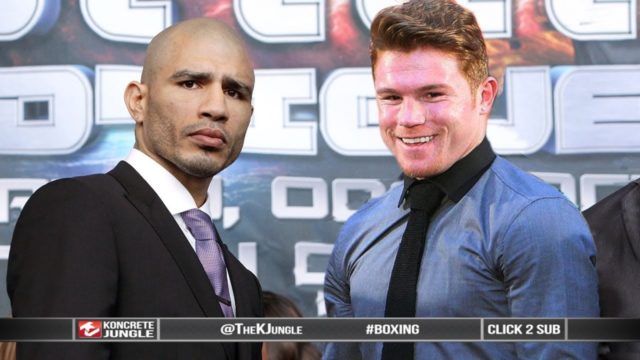 Recently, boxing's undisputed pound-for-pound king Floyd "Money" Mayweather announced that he would take on a relative unknown in Andre Berto in what is being billed as Mayweather's last fight before retirement.
Boxing fans around the world were quite upset with this announcement, many saying that the fight is just another squash match for the already highly criticized Mayweather. Well, if boxing fans aren't happy with this fight which is set for September 12, 2015, they should be quite happy to hear that an absolutely huge fight has been booked for just over a month later.
ESPN.com has confirmed that middleweight superstars Miguel Cotto, and Saul "Canelo" Alvarez will do battle on November 21, 2015 in Las Vegas with Cotto's middleweight title being on the line.
Negotiations have been going on for quite some time, and it seems as if the two have finally come to an agreement. Cotto, who stands out as one of the best fighters of this generation, has won three-straight bouts, with his most recent being a super impressive fourth-round TKO over Daniel Geale last June.
The Puerto Rican Cotto speaking on his upcoming fight, stated that he has always vowed to fight the best, and that he will give the fans what they want come November:
"I will give the fans the fight they want to see," Cotto said. "As I have always said, during my whole career, I am here to fight the best names and the best fighters. This will be another chapter in my career, and I will be ready for him. Fans will enjoy a real fight, another classic battle in the Puerto Rico versus Mexico rivalry."
"Canelo" on the other hand has been dubbed the future face of boxing once the likes of Mayweather and Manny Pacquiao leave the sport, and like Cotto, the Mexican Alvarez has won three-straight. He is also coming off of a one-sided starching of James Kirkland back in May.
Speaking on the fight with Cotto, "Canelo" said that it's special due to the Mexican-Puerto Rican rivalry:
"Historically, mega fights are made because fans demand them," Alvarez said. "In this case, the fans have spoken out, longing for this fight, and it is my pleasure to say that it is finally happening.
"All fights at this level are very important, but this fight in particular has something more. It will hold a special place in history as part of the big rivalry between Mexico and Puerto Rico, and I promise all the fans that this is going to be an event that will not disappoint."
While it sometimes seems that boxing may not have many big fights left to offer, this is sure to be a fight for the ages. Who are you picking?
If you enjoyed this story, please share it on social media!