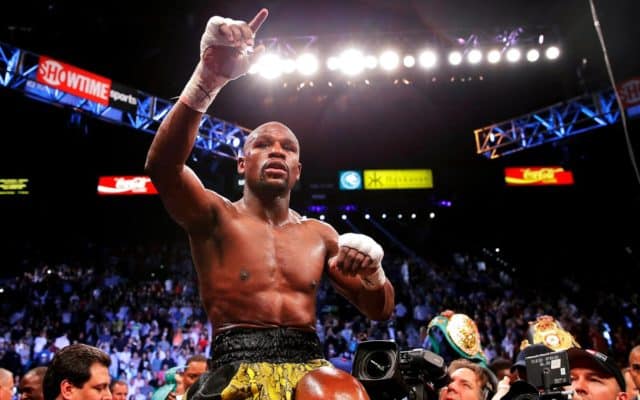 Well fight fans, we may have seen boxing's top attraction, and undisputed pound-for-pound king step into the ring for the very last time tonight (September 12, 2015). Undefeated superstar Floyd "Money" Mayweather said that his fight with Andre Berto, which went down tonight from Las Vegas, would be his last, and when it was announced, many were unhappy.
Fans, and media members said that Berto, who has lost two out of his last four bouts, wasn't a qualified opponent, and the criticism for Mayweather ran rampant.
However, it turned out to be a better fight than most anticipated, and a definitely a better showing from Berto than most had expected. The underdog never stopped moving forward, and pushed the pace for the duration of the fight, constantly putting himself in "Money's" face.
Berto was able to land his jab quite often, and occasionally landed a solid shot, or a solid combination, but as per usual, Mayweather controlled the bout.
"Money" used his trademarked defense, speed, and footwork to avoid the majority of Berto's punches, and keep his opponent guessing. Mayweather also established his picture perfect right hand, along with his solid left hook offensively.
The pound-for-pound king turned it on in the final rounds in terms of his punches, and his taunting, but Berto undoubtedly proved himself, and really made it a somewhat intriguing fight. While unquestionably more entertaining than Mayweather's last fight with Manny Pacquiao, at the end of the day, it was just another Mayweather fight, and it looked like the many that have come before it.
Despite some rather small outbursts from Berto, Mayweather used his defensive style to takeover, and ultimately added one more clear cut, one-sided unanimous decision to his record, which now stands at a perfect 49-0.
While often criticized, and bashed, Mayweather has done something special as he has remained on top for nearly two decades. If he truly decides to hang up his gloves, Mayweather will ride off into the sunset with a boat load of money, and an undefeated record to go with it.
If you enjoyed this story, please share it on social media!