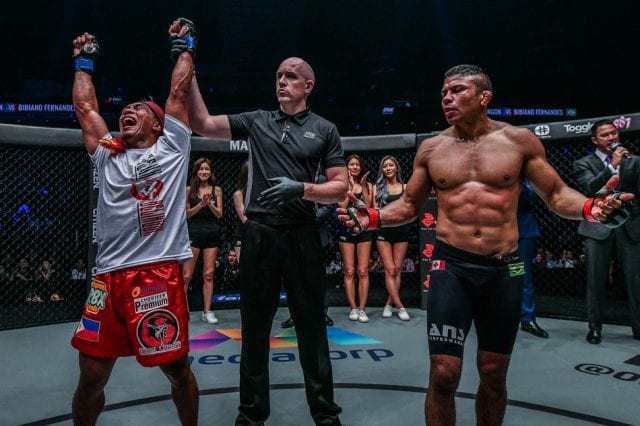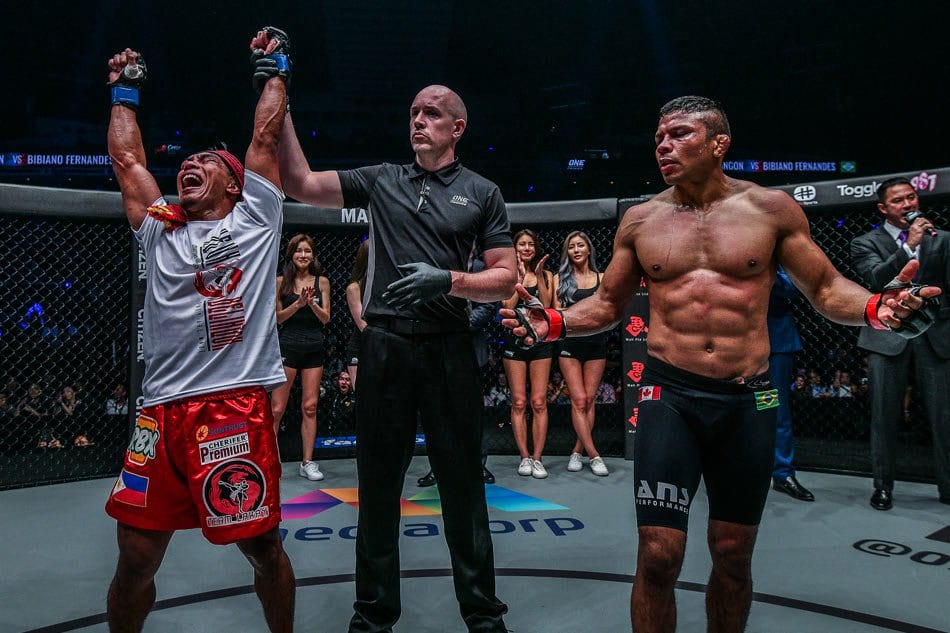 By Dan Paulo Errazo
Kevin "The Silencer" Belingon's victory over Bibiano "The Flash" Fernandes at ONE: HEART OF THE LION showed the fruits of his labor over the past two years. Belingon challenged Fernandes for the undisputed ONE Bantamweight World Championship last November, and he claimed victory over his rival with a masterful performance.

Belingon may have given fans unforgettable displays of his skills throughout his career, but his rematch with the most dominant World Champion in ONE Championship history showcased his overall improvement over the past year.

"The Silencer" tapped out to a wrenching Kimura from Belingon when they first met in January 2016. After the loss, Belingon promised to seek redemption and earn himself another shot at glory.

"I had worked so hard since my first loss to Bibiano [Fernandes] two years ago," he explains.

"I beat myself up so hard after that setback. I had the title within my grasp and I completely folded. I was embarrassed and absolutely humbled, but they say we learn more in defeat than we do in victory. That loss was the turning point in my career."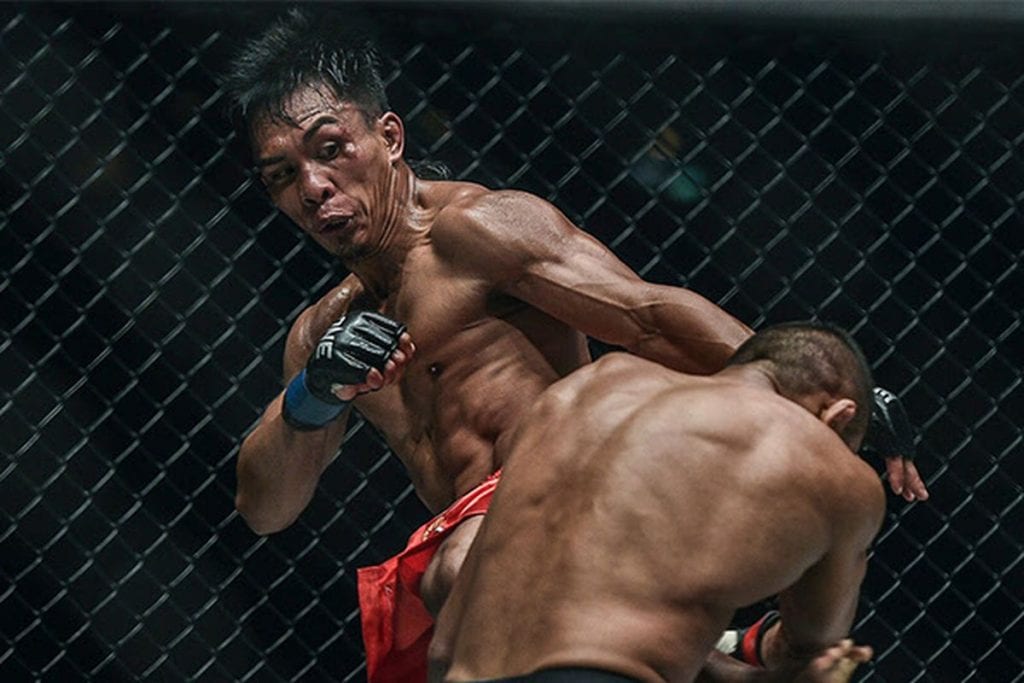 Due to the skill gap, Belingon quickly realized within the first few minutes of their first match that he was being outclassed by the Brazilian.

"I realized just how big of a skill disparity there was between us," Belingon adds.

"He was every bit of the grappling wizard they said he was. And I was also shocked at how strong he was as well. There was no way I was going to get back up after being taken down."

The Ifugao native hit the restart button and continued training with Team Lakay Head Coach Mark Sangiao overseeing his development. Ultimately, the loss showed Belingon where he needed to focus and taught him more lessons in defeat than in victory.

"I trained very hard to improve my grappling defense," he says.

"That was the main focus as soon as I stepped out of that cage. From then on, the goal was to get the rematch and not let anybody get in my way. I was laser focused and on a mission."

The Filipino then started his climb by facing a series of top contenders. He trained continuously for eight months, and was able to earn an impressive unanimous decision against Muin Gafurov. Belingon followed up that win with TKO of BJJ specialist Toni Tauru. Next, Belingon took on Filipino-Australian stalwart Reece McLaren, who is also a BJJ black belt, and scored a thrilling first-round knockout.

Kevin Chung was able to survive Belingon's trademark power, surviving to a decision, but that was only because the South Korean played it safe. Belingon was back to his destructive ways against American Andrew Leone, authoring one of the best spinning back kicks in his career to win by knockout.

But the win that earned Belingon another shot at Fernandes was his victory over two-division ONE World Champion Martin Nguyen. Although Belingon was unable to finish Nguyen, it was certainly one of his best performances to date. It set up the rematch with Fernandes that Belingon craved.

"When they officially announced the fight, I was immediately excited," Belingon says.

"I knew my opportunity had finally arrived, so my team and I put our heads together and we were able to come up with a brilliant game plan. We executed it to perfection."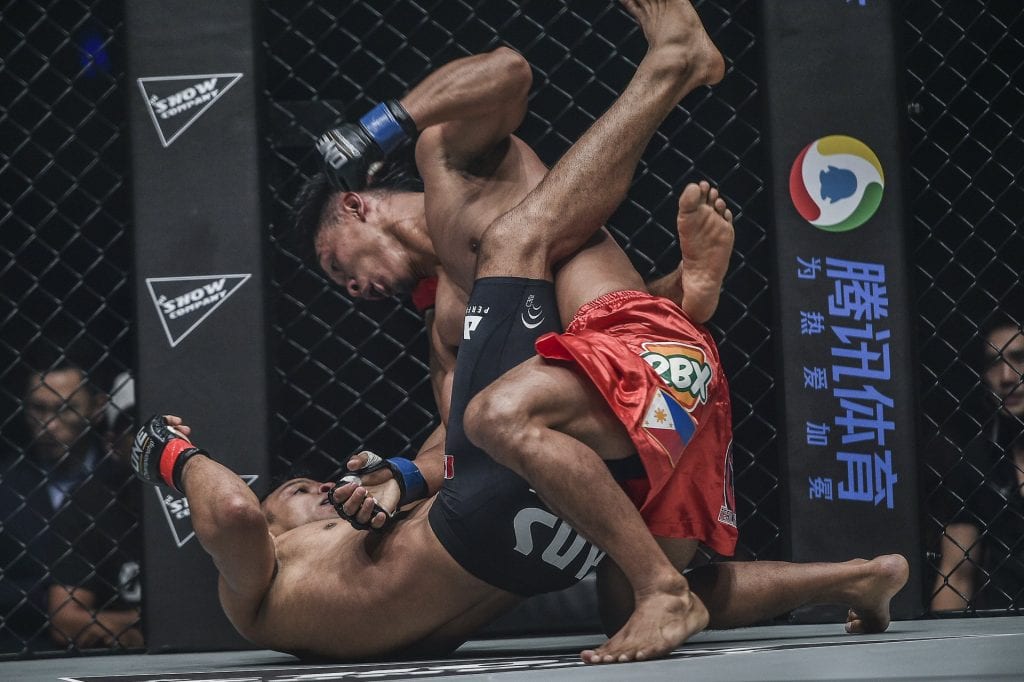 "The Flash" still owned the advantage over the Filipino in grappling. But this time, it was harder for him to execute due to Belingon's improved defense. The Ifugao native then showed his much improved grappling skills in escaping and countering with his strikes.

"I knew to go into the match that I was confident in grappling with him," Belingon said.

"I may not be a black belt in jiu-jitsu, and I may not have the best grappling offense, but my defense was surely on point. I knew if he took me down, I could get back up, and that was amazing for my confidence."

And that strategy worked.

For the rest of the match, "The Silencer" gave everything he had, tagging Fernandes with thunderous combinations, stinging counter-attacks, or his vaunted right hand that knocked the Brazilian on the canvas at the end of the fourth round.

When the final bell rang, Belingon wore the ONE Championship belt around his waist, winning by a hairline split decision. With arms raised in the air, he was finally victorious against ONE's greatest World Champion.

"I thought to myself, I did it. I beat Bibiano Fernandes," Belingon said.

"I know the battles I have yet to go through to keep this title will be some of the most difficult and trying in my career, but there's no better feeling than winning the title for the first time."

After years of hard work, Belingon finally was the undisputed ONE Bantamweight World Champion.

"I'm just enjoying my time as a champion, and so far it has been amazing. It's been an incredible year for me," Belingon concluded.

It was indeed a match to remember where both athletes gave their all and had the fans at the edge of their seats.

If you enjoyed this story, please share it on social media!