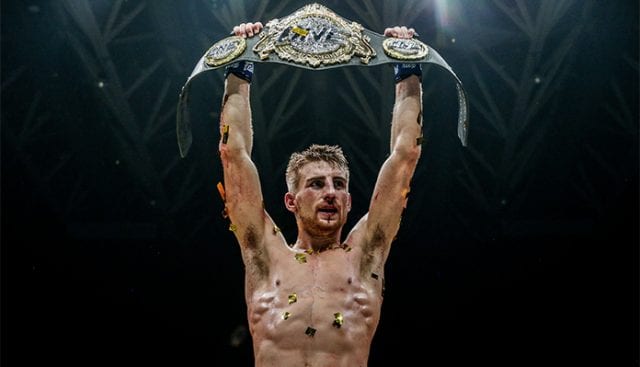 ONE Flyweight Muay Thai World Champion Jonathan "The General" Haggerty will not only be representing himself when he defends his crown on Friday, 2 August. The 22-year-old will also be representing the hopes and dreams of his legion of supporters who will be tuning in from the United Kingdom.
Haggerty is set to face off against the much-heralded Thai, Rodtang "The Iron Man" Jitmuangnon in the co-main event of ONE: DAWN OF HEROES. The bout will take place in what will be a sold-out Mall Of Asia Arena in Manila, Philippines.
The matchup between two of the most exciting strikers in ONE Championship is highly anticipated. Both athletes have yet to experience defeat inside the ONE Circle, and on a card stacked with exciting bouts, this one feels extra special due to the high stakes involved.
Haggerty, took up Muay Thai when he was a child and quickly showed a natural aptitude for the "Art Of The Eight Limbs." The London-native is looking to demonstrate to his fellow countrymen that they do not need to head overseas in order to learn how to compete with the world's best Muay Thai athletes.
"Some people feel the need to go to Thailand and train for an up and coming bout, but I think I train with the best here (in London)," Haggerty said.
"I am in the best hands. I got the Knowles academy, Keddles gym, my dad, and Team Underground. It just shows you don't have to go out there [ Thailand]. I can be the best by training in my home town with the best."
As ONE's popularity grows in the UK, so too has awareness about the promotion's UK athletes. Despite his young age, Haggerty is helping lead this current charge of athletes from the UK into the world's largest martial arts organization.
"The crowd over here, everyone loves Muay Thai. It's building, getting [a] really high profile over here," Haggerty explained.
"I think with ONE Championship everyone is getting behind the UK athletes and trying to push them towards the company. It's massive over here, it's only going to get bigger and bigger with the likes of myself trying to push it as far as I can," he added."
"I got to do them proud, that's what makes me strive to be the best and compete with the best.   So I can show everyone it's possible and dreams do come true," he continued.
To that end, Haggerty is training even harder in the leadup to his bout with Rodtang. He is aware that the Thai is laser-focused on capturing the title and that the 21-year-old like Haggerty will be attempting to do it not only for himself but for his country as well.
"I have got the best sparring partners. Training has been awesome as always. I have picked it up more this camp. It's been a lot tougher mentally and physically, but I am ready now. It's time to work," Haggerty commented. 
However, it should be noted that even with his hectic training schedule, the Englishman still makes time to support his gym's next generation of up and coming athletes.
"Before this camp, I was helping out training doing one to ones, but when I am in camp, I take it seriously. I got to get my rest in I got to get my recovery but leading up to the bout I still train the juniors because I understand that they need me," said Haggerty.
"I wouldn't want anyone to let me down, so I don't let them down. I am there for their bouts. It is a lot hard considering I have to train extremely hard every day and try and get my rest in at the same time, but you know life goes on and you just gotta do what you gotta do," Haggerty added. 
It is a commendable attitude and helps explain how Haggerty has been able to come so far in his career. No one becomes an athlete of ONE without talent, but to become a ONE World Champion requires talent and dedication. Thankfully and Haggerty has both.
If you enjoyed this story, please share it on social media!