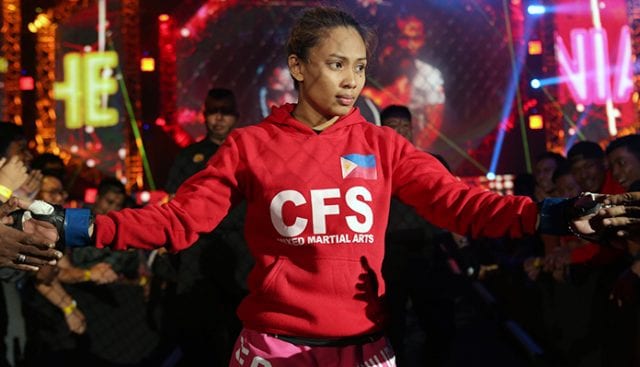 As Filipina mixed martial arts prospect Jomary "The Zamboanganian Fighter" Torres prepares to take to the ring against Malaysian contender Jihin "Shadowcat" Radzuan at ONE: MASTERS OF DESTINY at the Axiata Arena in Kuala Lumpur, Malaysia on Friday, July 12th, there is nobody more proud of her than her mentor, ONE strawweight contender Rene "D' Challenger" Catalan. 
The Catalan Fighting System product exploded onto the scene in ONE Championship with three sensational victories against top contenders in Thailand's Rika "Tiny Doll" Ishige, Indonesia's Nita Dea, and Team Lakay's April Osenio, but mixed martial arts was not always the path that she was set on. 
Torres initially came to Manila to work as a nanny but through Filipino mixed martial arts veteran and former ONE Championship athlete Ruel Catalan, she was introduced to the world of martial arts, and was later on invited to train by none other than coach Rene Catalan to work for them at the CFS Gym. 
"He offered me a job as a receptionist for the gym, taking inquiries and managing members. At first, I was hesitant because I was still working at the time," Torres shared. 
Torres went with a friend and met with Rene to gain a better understanding of the potential opportunity.
"I thought it was a good offer, so I asked my then-employers if I could take the opportunity," she explained. "They were gracious enough to let me go, so I just took my things, and I was at the gym the next day."
Torres was new to the world of martial arts when she came to work at the Catalan gym but immediately gained a mentor in Rene once she showed interest in learning the ropes. Soon, the Zamboanganian was already testing herself and joining competitions. 
"At first, Coach Rene let me train a bit with his class, and when he saw that I had potential to compete, he let me fight in amateur kickboxing," Torres shared. 
"I didn't expect to win at first, but it was the start of a series of matches in Muay Thai and kickboxing in the amateur scene."
Feeling slightly intimidated, she had a slow start in building relationships with her teammates.
"They looked grouchy at first. The first time that I came to the gym, I didn't know that Coach Robin [Catalan] and Coach Rene were brothers — the others just told me about it," Torres revealed. 
"I rarely got to talk to them because they didn't look approachable, so I was afraid to talk to them.
"As time went by, I got to know them a little better and I got to train with them, and I realized that they're far from my first impression of them," she added. 
Through years of training and shared experiences, she bonded with the brothers. 
Jomary says that Rene is like a father figure because he comes off as strong, stern, and protective to his students. Robin Catalan, on the other hand, is viewed more of a brother who she gets to train with. 
Everyone in the gym treats everyone like family, who they work with to reach their goals and boost each other's esteem in times of hardship, Jomary further explains. 
"We don't have problems. If one of us does, then everyone else helps in resolving it. We're like a huge family here – we provide for those who have none, help those who are in need, and things like that," she says.
"I've been here for over three years already, so we've gotten to know each other a lot better. Some of us may not get along so well at times, but that's just like with any other family."
Rene will always be a pillar of inspiration in Torres' life. Not only does he teach and guide her martial arts journey and growth, but he is always there with words of wisdom every time she might need it.
"He always tells us to always do good because nothing good will come out of doing bad things," she offers. 
"He also speaks about God highly, and he always allows time for us to worship every Sunday. He always tells us to give thanks and praise God before we do anything else in our day."
In her upcoming bout, Torres is more motivated than ever to defeat the hometown hero Radzuan, and she will be bringing into the ring an improved skill set and a strong sense of faith reinforced by her coach.
"We're thankful he steered us that way because we wake up every day feeling inspired. I follow Coach Rene's advice to always pray at night for me to succeed in my career," she concluded.
"I always pray for a win, and even though there is no certainty that God will give me the win, I always do my part in training and preparing for every fight."
If you enjoyed this story, please share it on social media!