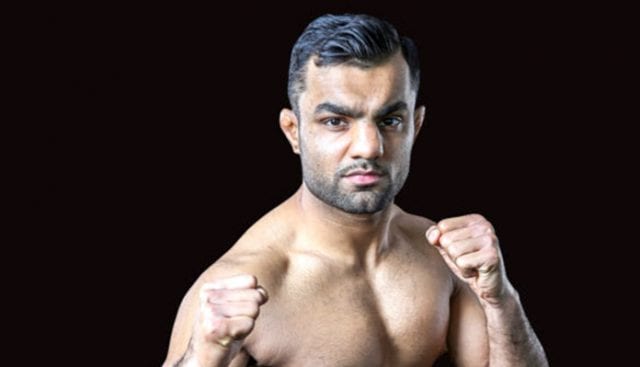 If you had asked a young Gurdarshan" Saint Lion" Mangat what he dreamed of becoming when he entered the workforce, you would not have found the profession of mixed martial artist listed as one of his possible future employment opportunities.
Born to immigrant parents, who left their native India to settle in Canada with the hopes of making a better life for themselves, Mangat was never considered a particularly athletic child.
In fact, up until his early 20's, the ONE flyweight appeared destined to spend his days behind a desk, working as an accountant as opposed to facing off against some of the best athletes in the world.
It was a chance viewing of a mixed martial arts bout featuring former World Champion and current ONE Championship Vice President Rich "Ace" Franklin that altered the course of Mangat's life. It was while watching Franklin that Mangat realized not only did he want to devote his life to becoming a martial artist, but more importantly he did not need anyone's permission or approval to follow his dream.
The hard work Mangat has put in over the years paid off and last March at ONE: REIGN OF VALOR, the 32-year-old introduced himself to the world by posting an impressive TKO victory over ONE veteran Toni Tauru in his promotional debut.
Having his hand raised in victory was a picture perfect moment for the debutant, and it will be a moment he will not forget anytime soon.
"I feel great after the bout. I felt ONE wanted to see what I was made of which is why they gave me a guy who had beat the former flyweight champ and fought the current and former bantamweight champ. I felt I rose to the occasion on the biggest platform to represent my people," Mangat said.
Now Mangat who is currently on a four-bout winning streak will meet Indonesia's Abro "The Black Komodo" Fernandes at ONE: MASTERS OF DESTINY on 12 July inside the Axiata Arena in Kuala Lumpur, Malaysia. 
There is a lot riding on the outcome of this bout. A second impressive showing will mark Mangat as someone people should keep a close eye on, in the ultra-competitive ONE flyweight division.
"Training for this camp has been intense and long. Once again I have made many sacrifices," Mangat said discussing his upcoming bout. 
"I am away from my wife as I have moved my camp to Las Vegas. I am out there alone, fully focused on the task. The training is intense, and at a high level, you have to be able to manage yourself out there because nobody is going to babysit you."
"Days are long, and the heat is intense, but all these uncomfortable scenarios are where true strength is built. I haven't watched much on Abro other than his last bout. I prefer to focus on myself and how I can be more well rounded. I have a basic idea of who he is, and that's all I need, the rest is up to what I choose to do in there," he continued. 
While Mangat is not part of the ONE Flyweight World Grand Prix, he is still keeping close tabs on the competition and is already mapping out his path to the title. If you enjoyed this story, please share it on social media!