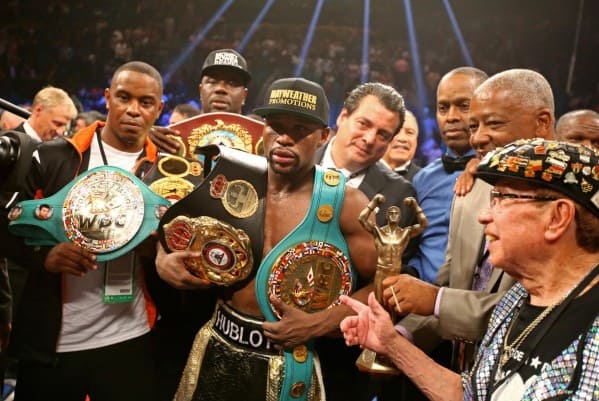 Another day, another shot thrown in the seemingly endless saga between Ronda Rousey and Floyd Mayweather.
One day after Rousey blasted the pound-for-pound champ yet again by stating that she made more money per second than him and to 'text her when he learned to read and write,' Mayweather not surprisingly issued a statement to TMZ directed back at Rousey suggesting she wasn't in his league:
"Big bank take little bank. Let's play and see how much money you got. Last time I checked I was #1 on Forbes. She will never be at my status. Keep trying to get publicity."
"Money" had previously bushed off Rousey's barb that asked him how he felt 'being beat by a woman for once' when she won the 2015 ESPY for "Fighter of the Year," telling Rousey to call him when she made $300 million.
The undefeated boxing great seems to think that "Rowdy" is using his name to get more publicity, but in truth Rousey is earning enough of that herself.
She recently headlined the UFC biggest drawing pay-per-view (PPV) card of the year at August 1's UFC 190, where all the success came largely on her own shoulders thanks to her 34-second knockout of hated rival Bethe Correia.
But although the transcendent woman's star is well known for being an advocate of female rights, she was recently spotted out with UFC heavyweight Travis Browne, who is currently suspended by the UFC pending a domestic violence investigation based on allegations his wife Jenna Renee Webb posted online.
Webb confirmed that Browne and Rousey were indeed dating, citing disgust at why "Rowdy" would date a married man who is under investigation for beating a woman. Rousey has also been seen at many public functions with former heavyweight boxing champion Mike Tyson, who is a known woman beater and a convicted rapist.
Those issues, along with Rousey's back-and-forth with Mayweather, have many fans online wondering just why she associates with so many known female abusers as a world-famous supposed advocate for women's rights.
She's made quite the reputation of being just that, and it could be argued that much of her crossover appeal can be attributed to her attitude of female empowerment.
With that said, are there some unfortunate double standards at play here, or is just a series of coincidences? If you enjoyed this story, please share it on social media!