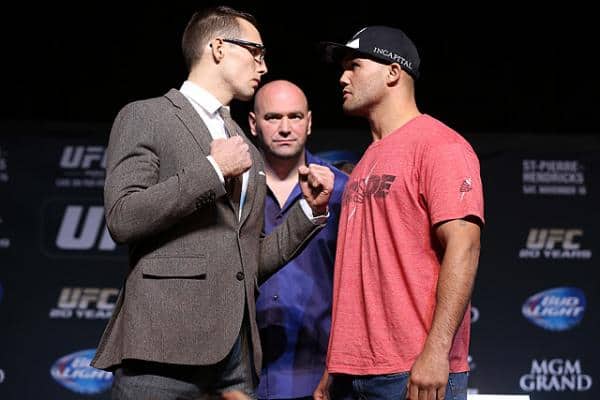 Robbie Lawler vs. Rory MacDonald 2 – UFC 189
UFC 189, which went down on July 11, 2015, was the Conor McGregor show. McGregor would take on Chad Mendes in the main event in an Irish-packed arena, but it was actually the co-main event that stole the show.
In the co-main event, reigning welterweight champion "Ruthless" Robbie Lawler would put his title on the line in a rematch against Rory "Red King" MacDonald. The first go around was a solid back and forth fight, but the rematch would turn out to be arguably the greatest fight of all-time.
Early on, the two combatants traded shots, with each man landing, but it was MacDonald who had Lawler on wobbly legs after landing a brutal head kick in the middle of the contest. A battered champion would barely survive the round, stumbling back to his corner.
However, Lawler would prove just how "Ruthless" he was, landing a vicious left hand in the final frame that would shatter the nose of the Canadian and ultimately shut the lights off for MacDonald.
Both men would leave the Octagon battered, bloody, and broken, probably not even realizing that they had just taken part in one for the history books.

What other classic fights do you remember?