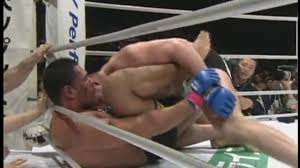 2.) Decision Win Over Antonio Rodrigo Nogueira at Pride 25:
This bout could arguably come in as a clear top choice if not for the historic reverence of the true number one pick.
The reason for that is this was a fight where Emelianenko first won the Pride heavyweight title in what was a massive upset at the time. 'Big Nog' had been steamrolling through competition as the most feared submission grappler of the era in MMA, so it came as nothing but a jaw-dropping shocker that 'The Last Emperor' was able to throw Nogueira down and smother him with relentless ground and pound.
The elite submission skills off his back, which had been the end of other heavy top control specialists like Mark Coleman, was rendered useless as Fedor bulldozed his way to his first championship win in Pride, a title he would defend three times and never lose.
What fight could top this historic bout? Read on to find out.