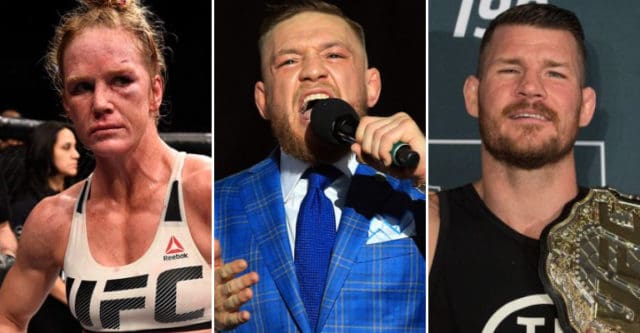 This weekend's (Sat., October 7, 2017) UFC 216 from the T-Mobile Arena in Las Vegas, Nevada, features yet another interim title fight when Tony Ferguson takes on Kevin Lee for the second-place lightweight strap in the feature bout.
And it's not even the first time that the promotion has tried to make a placeholder title for the division that Conor McGregor has kept in limbo, as the promotion attempted to book Ferguson vs. Khabib Nurmagomedov back at March's UFC 209, only to see it fall apart when 'The Eagle' couldn't make weight. Add that to the interim light heavyweight, middleweight, and featherweight belts that have been essentially manufactured in the last year-and-a-half, and you can easily surmise why the UFC is having one of their worst years ever in terms of pay-per-view (PPV) sales in 2017.
But it's not just the UFC's fault; no, champions holding out for 'money fights' and just outright picking and choosing their match-ups has lead to an era where it's hard for new UFC owners WME-IMG to build any momentum, and the days when champions defended their belts successfully – and often – in order to build the necessary rapport to become big stars seem to be absent from the sport right now (other than Demetrious Johnson, and we've seen how that has worked out). Champions aren't what they used to be, and whether it's bad luck or MMA simply evolving to create more parity, a true superstar is tough to come by right now.
What's apparently not, however, is a fly-by-night champ who fails to live up to the hype and circumstance that carrying the gold brings. While it seems easy to find such fighters throughout the last few years of MMA, there have also been some truly bad champs in the older days of the UFC as well. It should be noted that these fighters from the present or past had enough to get to the mountaintop, so they are or were elite, and that is a massive accomplishment in and of itself – but they just didn't deliver when they got there.
Check out our 10 worst champions in UFC history: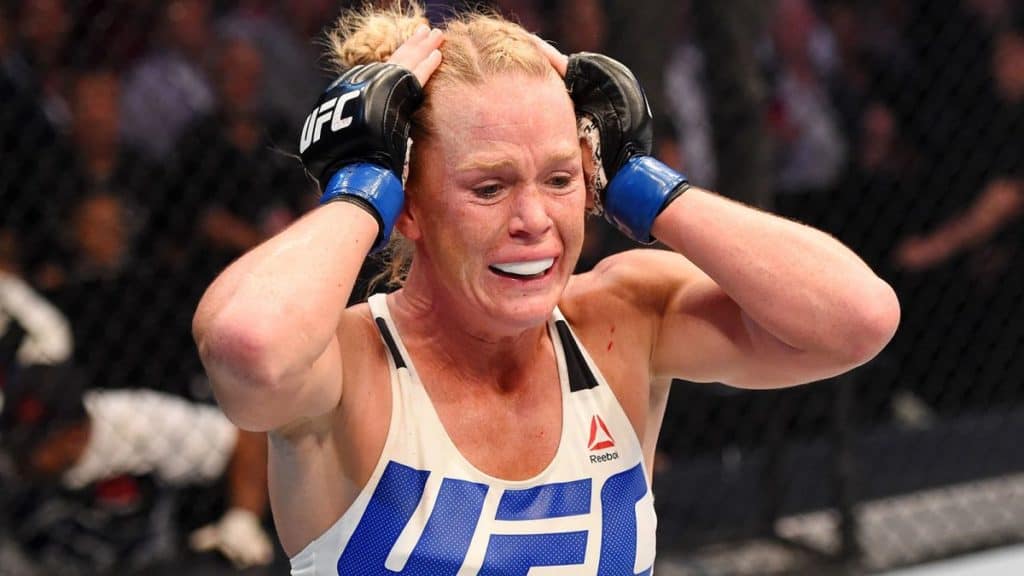 Holly Holm:
A decorated multi-time world boxing champion, Holm came to the octagon amidst a ton of fanfare in 2015. After two incredibly lackluster decision wins over Raquel Pennington and Marion Reneau, Holm went on to shock the world when she kicked Ronda Rousey into oblivion at November 2015's UFC 193 from Australia.
The MMA world was suddenly her oyster, but instead of holding out for a rematch with Rousey that legitimately could have been the biggest fight in UFC history, 'The Preacher's Daughter' decided to make her first title defense against Miesha Tate at UFC 196 the following March. After a tentative, safe four rounds in a fight she was probably winning, Holm was choked unconscious in the fifth round after Tate took her down.
From there, Holm went on to lose a one-sided decision to recent title contender Valentina Shevchenko in her next fight, but she still got a title shot nevertheless when she met Germaine de Randamie for the featherweight title in one of the worst fights of the year at February's UFC 208. She lost via controversial decision, but has since rebounded by knocking out an overrated and ineffective Bethe Correia this June.
She never made any title defenses and has lost three of her last four fights, but Holm is rumored to be facing Cris Cyborg for the featherweight belt in her next bout. Welcome to today's UFC, ladies and gentlemen.
If you enjoyed this story, please share it on social media!