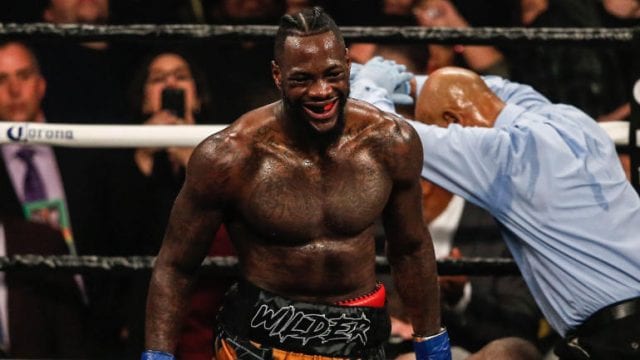 Earlier this week, the heavyweight division's biggest fight essentially fell apart when the WBC canceled the anticipated Deontay Wilder vs. Tyson Fury rematch rumored to happen this year.
Of course, that writing was clearly on the wall when Fury signed a lucrative multi-fight deal to air his fights on ESPN last month. Wilder will now move on to defend his title against Dominic Breazeale. While it was unfortunate for fans, Wilder has some supposedly good news. 'The Bronze Bomber' has fought for Showtime, yet he is considering a move to streaming service DAZN.
That news is significant in that fellow champion Anthony Joshua recently signed with them, as well. Wilder and Joshua has been linked to a high-profile title unification bout last year, but talks also fell apart. Wilder went on to face Fury in their now-classic match on December 1 that ended in a draw. With the rematch fizzling out, Wilder is looking forward to new possibilities. He told Tha Boxing Voice that he's meeting with DAZN chairman John Skipper in the near future.
Negotiations have ramped up according to Wilder:
"I've got a lot of things going on. Through these last 24-48 hours, it's been crazy, man. Our ears are still open to a lot of offers. I'm going to make the best decision for myself, for my family and for my career and we're going to move forwards with that."
Joshua Fight Happening For Sure?
Wilder guaranteed his oft-discussed bout with Joshua wlll certainly happen with his new deal pending:
"The fight (Joshua) is going to happen. The fight will happen for sure. I don't want people worrying about whether they'll see this fight happen or not. You will see the Deontay Wilder vs Anthony Joshua show. We will be one champion, one face, one name and it might be soon. You guys just have to continue to hold out and pray. Continue to support boxing, continue to support the heavyweight division."

Joshua will meet Jarrell Miller on June 1, and obviously, Wilder has his own fight coming. But there are bigger deals on the horizon, so Wilder said it was time to get to business:
"It's been fun hearing all the offers and stuff, and now it's time to get to business. I've got a lot of things going on. A lot of good things going on actually. I'll always have an open relationship with Showtime. We're family. I love Showtime, and this is not farewell, it's only goodbye for a little bit of time until I see them again."
Eddie Hearn Not Involved
He may be willing to sign with DAZN but he is firmly not willing to involve outspoken promoter Eddie Hearn, who has been working with the streaming service, on the deal:
"I know one thing for sure, that Eddie (Hearn) definitely won't ever be involved. As far as negotiations go, trying to get the job done, it will never be done with him. We don't want no parts with Eddie, I don't want no parts with Eddie at all. I don't need him trying to reach out to me, call me or whatever. It's done. One thing you don't do, you don't burn bridges."
If you enjoyed this story, please share it on social media!