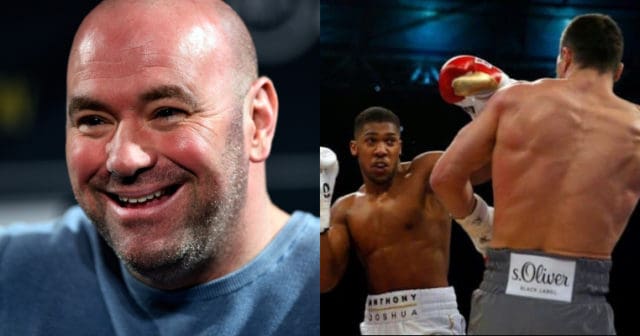 Following years of a seemingly barren landscape for boxing's once-loved heavyweight division, Anthony Joshua ignited a massive spark of interest with a scintillating 11th-round TKO of longtime mainstay Wladimir Klitschko last weekend (Saturday, April 29, 2017) from Wembley Stadium in London (watch full highlights here).
The awe-inspiring bout, which was attended by 90,000 fans and saw Joshua hit the ground once while Klitschko fell three times, drew reactions from several figures around the combat sports world, and one of the more prominent ones was UFC President Dana White.
The polarizing exec, who got his start in boxing, posted a message proclaiming how Joshua had saved boxing from its current state before congratulating the new champ on his Instagram account:
"Boxing had been DYING waiting for an exciting heavyweight champ, now they have it in Anthony Joshua, CONGRATS champ."
Interest in the sweet science, while it may appear to be a direct competition to White and the UFC, could actually be a very good thing for the promotion's financial chances during a rough start to 2017, as a boxing super fight between UFC lightweight champion Conor McGregor and boxing legend Floyd Mayweather continues to be one of the hottest topics in either sport despite an overall lack of real concrete news regarding the bout.
Either way, it was clear that boxing needed a big shot in the arm, and Joshua did just that by stopping Klitschko to extend his record to an undefeated 19-0 with an astonishing 19 knockouts. Will the promising Brit be able to carry the weight of fighting's most storied class on his shoulders like White believes? If you enjoyed this story, please share it on social media!