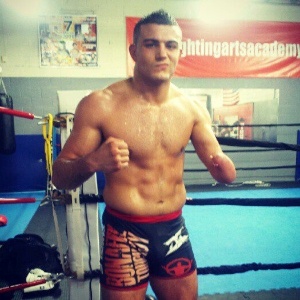 His name is Nick Newell, he is undefeated, currently on a 9 fight winning-streak with 8 first round finishes including 6 submissions and 2 TKO's, and he's most recently become the XFC Lightweight Champion defeating former Champion Eric Reynolds, a veteran pro-fighter who has gone the distance with elite Lightweight MMA stars such as former Bellator Champion Eddie Alvarez and Jorge Masvidal.
More impressive than that? Nick Newell has accomplished all of this single handedly… Literally. Nick Newell was born a congenital amputee with one hand, while the other arm extends just passed the elbow still giving him the ability to grapple and perform submissions.
Although even after everything this man has accomplished with his disadvantage, Dana White and many other top promotions still don't seem to be impressed or even interested. Asked recently if he'd ever consider allowing someone with a physical disability like that of Newell an opportunity to prove themselves either on the prelims or a show like The Ultimate Fighter, Dana simply said:
"Guys with two arms have a hard enough time in the UFC as it is"
And he does have a point, the underdog story that has started off as truly inspiring could potentially turn ugly if not handled correctly. Although the same could have been true for Matt Hamill who was hearing impaired, yet still given an opportunity to prove himself, which he did brilliantly, turning himself into a successful and well-respected fighter in the UFC's Light-heavyweight division.
Newell is an intelligent individual and realizes that his situation is not exactly normal. While making an appearance on the MMA Hour with Ariel Helwani, he recently had this to say regarding his disability:
"No matter how much I accomplish in this sport, it's always going to be something that gets brought up. I've come to terms with that. People will always look at me as being the guy with one hand"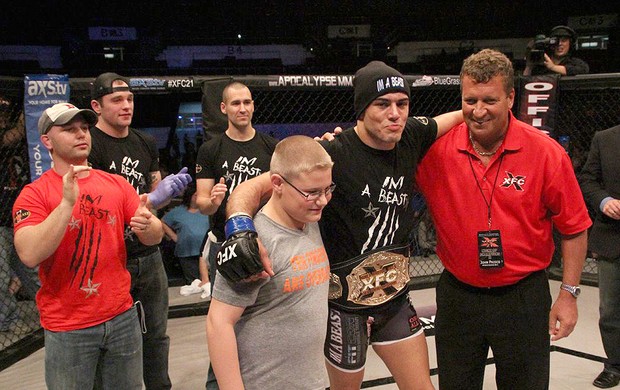 Despite his circumstances however, the one thing Newell would like to make clear is that he will keep training and keep defeating who ever steps in his path, with the hopes that his stock will raise to a level of complete un-deniability.
To contrast what Dana White said about two hands not being enough, ironically Newell seems to be doing things with one hand that others with two hands haven't been able to accomplish.
After becoming XFC champion and with a title now around his waist, Newell can feel the cards lining up in his favour:
"I feel like people are starting to look at me more as a talented fighter. I'm not just a guy who fights with hand. I'm a very talented fighter that happens to have one hand."
That you are Nick, and I for one will be rooting for you to get every equal opportunity available to you. Here's hoping for a Nick Newell UFC debut in 2013.