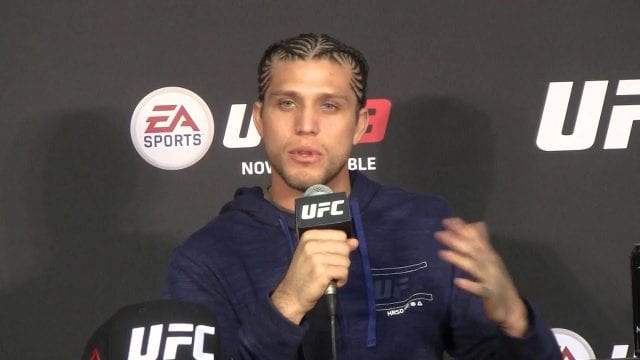 The Max Holloway vs. Brian Ortega headliner at this weekend's (Sat., December 8, 2018) UFC 231 from Scotiabank Arena in Toronto, Ontario, Canada, is shrouded in uncertainty.
It's undoubtedly one of the most anticipated fights of 2018, yet fans are awaiting the event on pins and needles. It's justified, as Holloway was forced out of the bout's original booking this July. He exhibited concerning "concussion-like" symptoms during the lead-up to the fight and was removed. Once is bad enough, but it was 'Blessed's' third fight withdrawal of the year.
All that has Ortega understandably apprehensive. The two appeared together at the UFC 231 press conference yesterday. During today's open workout session, Ariel Helwani reported that Ortega asked Holloway if he was confident he would make it. To that, the champ would supposedly not even respond:
Brian Ortega says he asked Max Holloway yesterday, "How confident are we (about fighting on Saturday)?" He said, "I couldn't get a response." pic.twitter.com/yS94DZMgmi

— Ariel Helwani (@arielhelwani) December 6, 2018
Questioned if Holloway's inability to make it was affecting his experience, Ortega admitted it was. 'T-City' admitted he couldn't go through the emotions of UFC 226 again:
Asked Ortega if all this uncertainty is ruining the process for him. "A little bit," he said. He doesn't want to go through the emotions he experienced in July.

— Ariel Helwani (@arielhelwani) December 6, 2018
It's no surprise that Ortega is feeling a bit jaded at the whole situation. This is supposed to be the biggest fight of his life, but he has little to no assurance that his opponent will show up.
Holloway claims that he's all healed up from his issues. However, his team still doesn't really know what happened to him. A private investigation is still pending.
That has UFC 231's main event miring in a muck of uncertainty just two days before the event is scheduled to take place. Will "Blessed" finally make it to a fight this year?
If you enjoyed this story, please share it on social media!