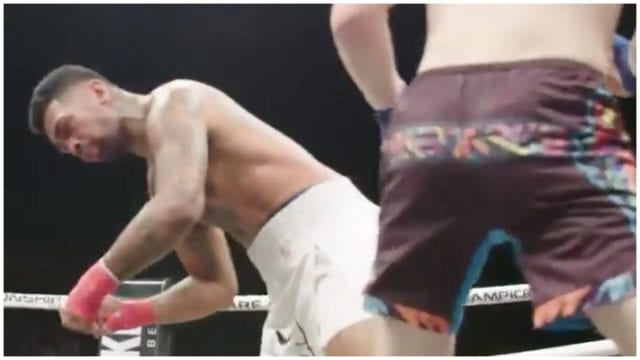 On a night featuring multiple UFC veterans, it was Kaleb Harris who shined the most during Bare Knuckle FC (BKFC) 7 which took place Saturday night at the Mississippi Coast Coliseum in Biloxi, Mississippi.
Harris took on Johnavan Vistante and delivered a vicious overhand right that dropped his 29-year-old opponent to the ground face-first. Vistante was attempting an uppercut, but unfortunately for him, Harris connected first.
You can see the replays below:
Vistante would announce his retirement on social media soon after:
"It was a good run," he tweeted. "Had my first professional fight at 16. I loved every minute of it. It's took me too long to realize that the dream of my children and family are more important than mine alone. It's been real guys. I love every single one of y'all who have supported me. Thank u"
Other notable results included the main event which saw former UFC veterans Jim Alers and Leonard Garcia collide. Alers came out on top as he knocked the former featherweight down before proceeding to finish him in the first round.
Former UFC heavyweight Chase Sherman was also in action as he defeated Arnold Adams via unanimous decision in his second BKFC appearance. As a result, he claimed the promotion's heavyweight title.
Helen Perlata also earned the promotion's women's featherweight title when she defeated Christine Ferea via unanimous decision.
The full BKFC 7 results can be found below:
Jim Alers def. Leonard Garcia via TKO (punches) – Round 1, 2:38
Chase Sherman def. Arnold Adams via UD
Helen Perlata def. Christine Ferea via UD
Isaac Vallie-Flagg def. Melvin Guillard via TKO (hand injury) – Round 3, 5:00
Adam Pellerano def. Joshua Boudreaux via TKO (leg injury) – Round 2, 2:30
Dale Sopi def. Juan Torres via UD
Kaleb Harris def. Johnavan Vistante via knockout (punch) – Round 2, 0:51
Quintin Henry def. Bubba Malbrough via knockout (punches) – Round 1, 1:55
If you enjoyed this story, please share it on social media!