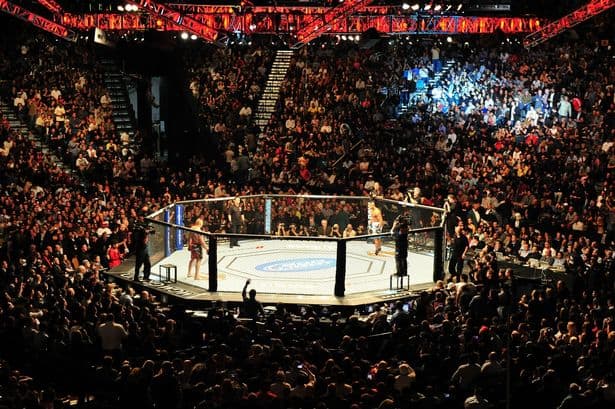 Mixed Martial Arts –MMA for short- is starting to gain ground as an increasingly popular betting sport worldwide. Although it might not be quite there yet with top sports such as football, basketball or professional boxing, MMA is slowly, but surely, gaining steam among sports fans. Many fans regard this sport with a burning passion, and there is no doubt that plenty of them enjoy searching for MMA sections in their favorite sports betting sites not on gamstop.

For those of you who remain unfamiliar with the world of MMA, it is a fighting sport that takes place in an octagonal ring –aptly named the Octagon-. Two fighters enter the Octagon and must each other out through grappling, striking and throwing. A fight is expected to last for three rounds, 5 minutes each, and be judged by a committee of three judges. The round winner is rewarded with 10 points, whereas the loser is rewarded with 9 points or 8 if it is an evident loss. If a match goes on for its total duration, all points are added up, and the fighter with the most points is declared the match's ultimate winner. If the game ends with both fighters leveling on points, the fight ends in a draw.

MMA, although increasingly popular, is still unknown to many, including bettors who might be unaware of the basic principles of how to bet on MMA correctly. In order to get started, first, it is necessary to learn about different types of matches, the range of ways fighters can ultimately finish a game and which fighters are considered the best and given the best odds.

If you are interested in getting into the world of MMA betting, then keep on reading because this article is for you.
How to get started in MMA betting?
Getting into MMA betting first requires specific knowledge of how MMA fighting effectively works, how it is valued, and how it is categorized.

There are various methods of winning that MMA pundits can bet on:

Knockout: Strike that ends with the opponent losing consciousness

Technical Knockout: A situation when the opponent is unable to defend themselves any longer
Decision: When a fight lasts a total of all three rounds, the judges decide the winnerby point score.
Submission: When a fighter is being grabbed, they may either choose to tap out or lose consciousness
Forfeit: A fighter unable to continue fighting may forfeit the match
Disqualification: One fighter considered to have severely broken the rules or continues to do so after being warned will be disqualified.
No contest: Both sides that continuously break the rules or cause any incidental injury as a direct consequence of an illegal action will result in a no contest
Do your research

First, it is vital to acknowledge the importance of conducting extensive research to place a well-informed bet. The bettor needs to know which fighter is more likely to win a match. Because of this, it's important always to check the odds in various betting houses to ensure your choice fighter has the best odds if you are to keep it safe.

Betting on MMAs requires bettors to look at various aspects related to the fight, such as weigh-ins of both fighters and the size and type of the fighting field –which may vary from an octagon to a ring. If in doubt, it is preferable to bet on an octagon since it is the standard ring in which most bouts occur. Also, please consider the cage's size as it also might affect the action and progress of the fight.

Also, remember that fighters only have a scheduled number of fights; therefore, much may change for them after a particular fighting season. This means that certain fighters may be more motivated and confident than in previous fights and, thus, trained more intensively for this particular season, changed weight or even aged considerably. Therefore, it is even more important than other sports to keep you updated on your favorite fighters.

Many different bookies offer a wide range of betting odds. The smartest thing any bettor can do is to look for peaking odds and find the best possible offers. The best advice would be to search for a bookie that offers odds mere days after the fight's announcement.
Most popular MMA leagues
If you are to bet on MMA fights, it is also necessary to have specific knowledge of which are the most popular MMA leagues and organizations. This will help you decide which tournament or leagues you want to bet on.

Ultimate Fighting Championship (UFC): This American MMA promotion tournament is based in Las Vegas, USA, and it attracts some of the greatest names in MMA, such as Conor McGregor, Ronda Roussey and Jon Jones, to name a few. It has approximately over 300 million fans all over the world and broadcasts across 150 countries worldwide.

Bellator: Bellator is regarded as the second most important MMA league in the US, only behind the UFC.We find Vadim Nemkov, Patricio Pitbull and Douglas Lima among their most well-regarded fighters.

ONE Championship: Based in Singapore and founded in 2011, it has 10 weight divisions based on walking weight. This Asian representation includes names such as Aung La Nsang, Joshua Pacio or Kiamrian Abbasov.

There are many other MMA tournaments and events you can bet on, and it is always a good idea to keep track of as many as possible to attain as much variety and choices as possible. 
Final tips and advice
Some final piece of advice is to avoid betting solely on your favorite fighters. Although it might seem counterproductive to your view of the game, you must realize that each fighter has its own strengths and weaknesses. Knowing how a fight will turn out is complex, and it is best to put your trust in your knowledge rather than relying on gut feelings and certainties.

Moreover, ensure not to only sometimes bet on heavy favorites since these are likely to suffer from overconfidence or even underestimating an opponent. Besides, odds tend to worsen for a choice when most MMA bettors bet massive amounts on a particular favorite.